Swimmers remain poised for championship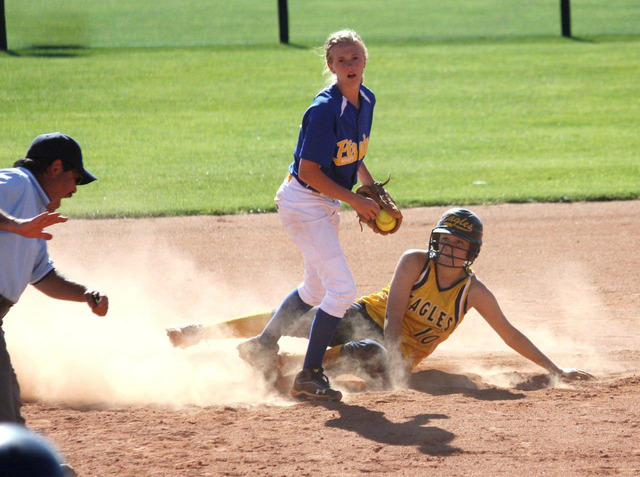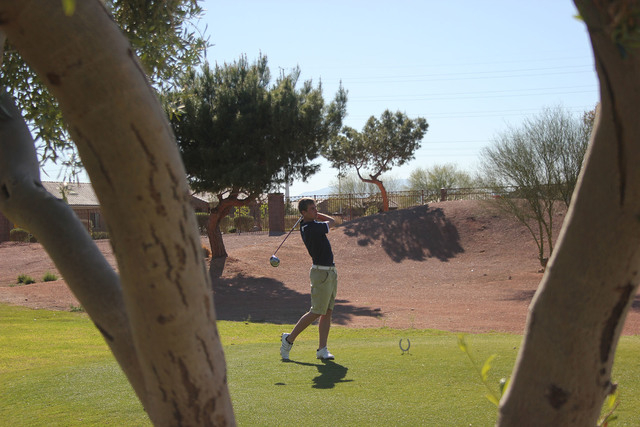 Sam Sauerbrei and Jared Smith each won two events as Boulder City defeated Coronado, 149-137, at Henderson Multigenerational Outdoor Competition Pool on Saturday in a meeting of two of the state's best swimming teams.
Boulder City's boys are the three-time defending state champions.
Sauerbrei won the 200 individual medley in 1 minute, 59.01 seconds and the 100 butterfly in 54.18. Smith won the 200 freestyle in 1:46.53 and the 100 backstroke in 52.9.
"The boys win pretty much cemented our 14-year dual meet streak," head coach Sara Carroll said. "I knew it would be close because we were missing a few swimmers, but everyone rose up to the challenge, especially the upperclassmen. We had lots of team energy and high spirits and fed off that.
"A few swimmers that deserve a special shoutout are Sam Sauerbrei, Jared Smith, Adam Peterson, Joey Gebhart, Jason Lyon and Evan Klouse for his relay heroics."
In girls swimming, Alex Hubel, Cori Molisee and Montana Lloyd each won two events as the Lady Eagles remained unbeaten with a 178-108 victory against Coronado on Saturday.
"The girls swam tough and won every event," Carroll said. "Both teams are preparing well and getting ready for the postseason. It will be very exciting to watch them all."
The Lady Eagles are the defending state champions.
Hubel won the 50 freestyle in 24.72 and the 200 freestyle in 1:54.24. Molisee claimed the 100 freestyle in 54.68 and the 500 freestyle in 5:07.74, and Lloyd won the 200 individual medley in 2:13.08 and the 100 backstroke in 58.65.
Boys Golf
Luke Logan won medalist by shooting a 2-under-par 69 to lead Boulder City to victory in a six-team meet at River's Edge Golf Course in Needles, Calif. The Eagles had a team score of 386 to beat Needles (401) and Pahrump Valley (443).
Kyler Atkinson added a 1-over-par 72 and Marcus Walker shot 78, followed by teammates Christian Hudleson (80), Kyle Effertz (87) and Hunter Ulibarri (96).
"We always seem to play well at River's Edge in Needles," coach Regina Quintero said. "It is a pretty easy course to get around. Obviously, Luke and Kyler played well and Marcus stepped up and turned in a good score of 78.
"Christian Hudleson and Kyle Effertz struggled a little. In order for us to have a shot in the postseason, these scores need to be anywhere from four to six strokes lower. All 11 players on the roster are working hard to cut off a few strokes overall.
"Basically, the top three or four players are pretty much set, but we have another five or six that can compete on any day. As a coach, this is the best that we can ask of them, to always push each other to score better. If we can keep our team scores under 400, the better off we will be."
Softball
The Boulder City softball team defeated visiting Moapa Valley 10-0 Monday behind pitcher Mickaela Brown, who threw a five-inning no-hitter with no walks and five strikeouts.
The victory improved the Lady Eagles' overall record to 13-3 and first-place Sunrise League record to 4-0.
Kaila Davis had a double and three RBIs for Boulder City. Bryanna Lopez, Nikki Schulz and Megan Morton each had a double for the Lady Eagles. Moapa Valley's only base runner reached on an error.
On Friday, Charlene Masterson threw a two-hitter and struck out nine on the mound, and then at the plate was 3-for-5 with four RBIs as Boulder City defeated Bonanza 12-1 in a nonleague road game. Jessica Embro went 3-for-5 for the Lady Eagles, who scored 11 runs in the final three innings.
On April 3, the Lady Eagles defeated Desert Pines 17-1 in a road league game. Brown threw a three-hitter and had nine strikeouts. She also batted 2-for-3 with two doubles, three RBIs and two runs scored in a five-inning game. Katlyn Jackson went 3-for-3 with a triple, three runs and one RBI, and Davis was 3-for-3 with two doubles, two RBIs and two runs scored. Embro and Morton each had three hits.