Swimmers' meet with Olympians memorable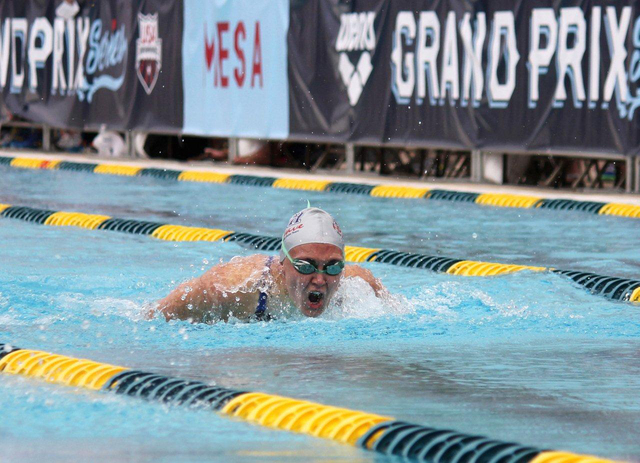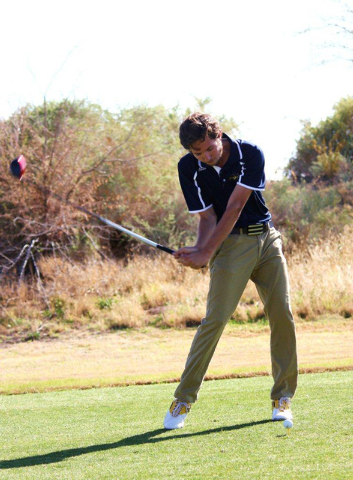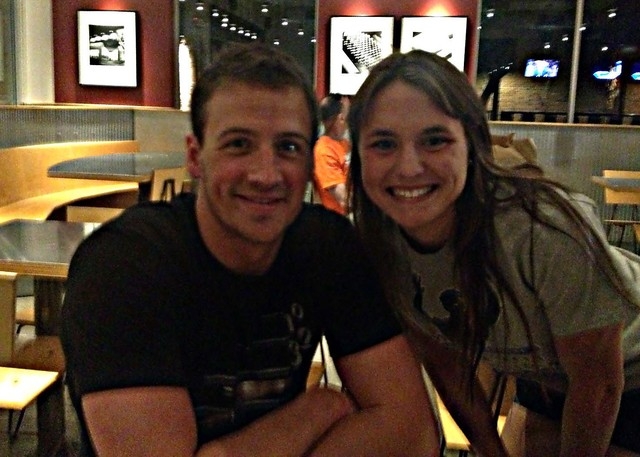 It is one thing to admire gold-medal winning U.S. Olympic swimmers, and another to swim in the same pool.
It was a weekend Boulder City junior Alex Hubel will long remember as she swam in events before and after some of best-known U.S Olympians ever, and even got a visit from Ryan Lochte at her dinner table.
Hubel, representing the Boulder City/Henderson Heatwave amateur swim club, two teammates from Henderson, and the Olympians competed in USA Swimming's 2014 Arena Grand Prix in Mesa, Ariz., this past weekend. U.S. swimming legend Michael Phelps, the all-time leader in Olympic gold medals won, made his return to competitive swimming and caused a media frenzy.
But it was a thrill for Hubel.
Hubel swam in the 50, 100 and 200 freestyle, 100 and 200 butterfly. Phelps watched her swim her preliminary 100 butterfly as he prepared to take the pool immediately afterward for his 100 butterfly.
"It was exciting to be on the pool deck with the Olympians that are some of my biggest role models," Hubel said. "I got to see that they are people just like you and I, but they have worked extremely hard to achieve their goals in our sport.
"It was amazing to not just see my role models in person, but actually warming up in the same lanes and swimming the same events. It is a great memory that I will always have."
Lochte also was a big crowd favorite like Phelps, but he really scored points with the Heatwave swimmers. Lochte crossed paths throughout the weekend and stayed at the same hotel as Hubel and her teammates. But it was at Chipotle Mexican Grill where he momentarily stopped by and posed for photos at the Heatwave table.
"It was great that he took the time to have his picture taken with us," Hubel said. "He was a very nice person."
Boys Swimming
Adam Peterson and Joey Gebhart each won twice Saturday as undefeated Boulder City scored 147 points to beat Foothill (112) and Eldorado (32) at Henderson Multigenerational Outdoor Competition Pool. Peterson won the 200 freestyle in 1 minute, 51.87 seconds and the 500 freestyle in 5:07.41. Gebhart was first in the 100 butterfly (54.48) and the 100 backstroke (54.78).
Girls Swimming
Cori Molisee and Montana Lloyd each won two individual events as the Lady Eagles defeated Foothills and Eldorado in a trimeet Saturday with a high score of 190 points, while Foothill scored 79 and Eldorado 45.
Molisee won the 200 individual medley in 2:13.06 and the 100 freestyle in 56.45. Lloyd won the 500 freestyle in 5:17.42 and the 100 butterfly in 1:01.08.
Boys Golf
The Eagles topped Foothill at the Tuscany Course April 23 as Kyle Effertz and Hunter Ulibarri each shot 4-over 40 to lead Boulder City to a 217-226 win.
Effertz and Kyler Atkinson each shot a 4-over-par 40 Monday to lead Boulder City to a 210-219 victory over visiting Green Valley over the 9-hole course at Boulder City Municipal.