Swimmers eye repeat state titles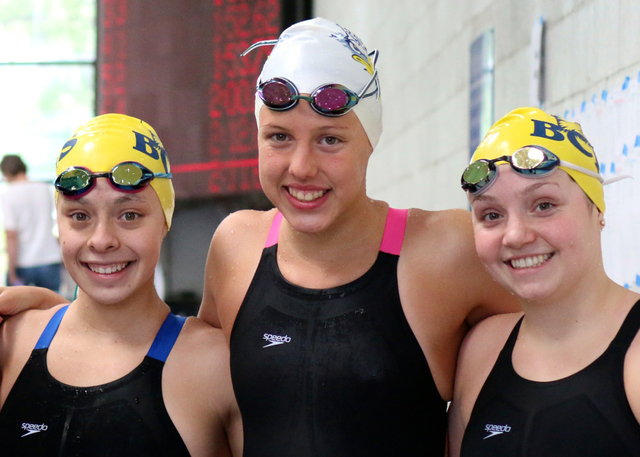 Swim season is upon us, with both Boulder City High School programs looking to extended their dominance over the Division I-A.
For the five-time defending Division I-A state champion boys, the Eagles are expected to be in the hunt for their seventh consecutive trip this season under head coach Sara Carroll.
Returning a pair of individual state qualifiers in senior Nick Lara and junior Braden Klouse, the Eagles have the firepower up front to continue their lengthy dynasty.
Lara, who will swim at Navy next year, has represented the Eagles in all three of his previous seasons with the program at the state meet and will be in the hunt for a fourth trip this season after finishing second in last season's state meet in the 100-yard butterfly with a time of 0:54.07 and third in the 100-yard backstroke with a time of 0:56.34.
Klouse, a state qualifer in each of his previous two seasons, will be looking to do the same, following a third-place finish in the 100-yard freestyle and 200-yard freestyle at last year's state tournament with a times of 0.54.42 and 1:52.55, respectively.
"Nick has emerged as a leader this year along Braden, who is continuing to carry on a role as leader also," Carroll said, as she prepared to head into her 22nd season at the helm of the swim program. "I think the boys have a shot at state if they stay focused."
Also returning this year for the boys is senior Joren Selinger, junior Cade Braden and sophomore Clayton Pendleton, who should all contribute to lessening the impact left by graduation, while freshman Paco Cuevas and A.J. Pouch are expected to be the Eagles' next set of up and coming stars.
For the girls, the outlook is similar for the defending three-time state champions behind a star-studded junior core of Sarah Estes, Mandy Gebhart, Montana Lloyd and Abby Sauerbrei, who should propel the Lady Eagles to their sixth consecutive state tournament.
"The girls seem strong to repeat at state again this year," Carroll said. "We have multiple girls who should make state in various events, and a few more that may sneak in. Our depth is going to be crucial this season."
Backed by a strong pedigree, Estes, Gebhart, Lloyd and Sauerbrei will all be in search of their third consecutive state meet as individual qualifiers.
Gebhart leads the group as the team's only returning individual champion after taking home the 500-yard freestyle title last season with a time of 5.03.70, while finishing fourth last season in the 100-yard breaststroke with a time of 1.12.22.
Lloyd isn't far off the pack, following a pair of second-place finishes at last year's meet in the 100-yard backstroke and the 200-yard individual medley with times of. 0.55.57 and 2.08.58, respectively.
Competing in the 200-yard individual medley as well, Sauerbrei finished fourth with a time of 2.14.77, while Estes finished fifth with a time of 2.19.58. Rounding out their core, Sauerbrei also finished second in the 100-yard butterfly with a time of 1.00.58, while Estes finished third in the 100-yard backstroke with a time of 1.01.92.
Also expected to compete for state berths this season will be the freshman tandem of Aimee Garcia and Rose Pouch.
"Right now were mainly concentrated on getting our newbies and second-year kids in shape and have them learn correct strokes," Carroll said. "We will have a better idea of what our freshman boys and girls can provide us after a relay meet."
Both programs will start their respective state championship quests March 17 against Southeast Career Technical Academy at Heritage Park.
"The kids seem enthused," Carroll concluded. "They're a cohesive group, and I am excited about our possibilities."
Contact Robert Vendettoli at BCRsports@gmail.com.