Swimmers cruise to another win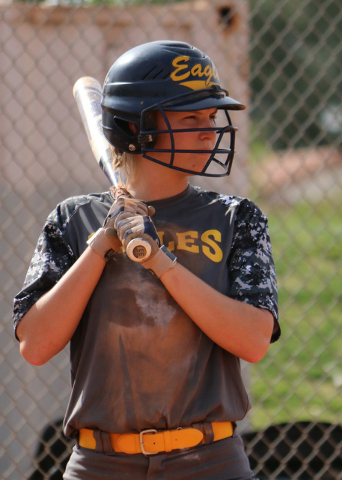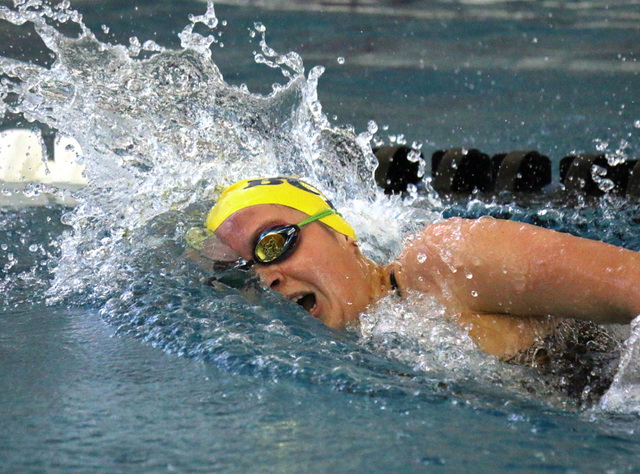 Cruising through another conference meet, Virgin Valley fell victim to perennial swim power Boulder City on Saturday, with both Eagles programs sweeping through the competition at Heritage Park.
The Lady Eagles' youth movement led the way for Boulder City, headlined by freshman Rose Pouch sweeping both of her events, placing first in the 50-yard freestyle and 100-yard butterfly with times of 26.4 and 1:00.09, respectively. Freshman Annika Freiburger also displayed her talents in the 200-yard individual medley with a winning time of 2:24.52, while freshman Aimee Garcia placed first in the 100-yard breaststroke with a time of 1:10.30.
Also placing first for the Lady Eagles were juniors Sarah Estes (100-yard freestyle), Mandy Gebhart (200-yard freestyle), Montana Lloyd (500-yard freestyle) and Abby Sauerbrei (100-yard backstroke), who give the Lady Eagles a solid display of experience to balance their up-and-coming contributors.
For the boys, a youth movement has taken over for the Eagles as well, displaying a bright future following the graduations of key seniors Nick Lara and Joren Selinger.
Placing first in both of his events, freshman Paco Cuevas stole the show, sweeping his way through the 100-yard freestyle and 500-yard freestyle with times of 51.19 and 5:05.71, respectively, while freshman A.J. Pouch placed first in the 100-yard breaststroke with a time of 1:01.24.
Lara (200-yard individual medley) and Selinger (100-yard butterfly) also placed first in their events, as did junior Braden Klouse (200-yard freestyle) and sophomore Clayton Pendleton (100-yard backstroke).
Continuing to make a strong push toward another banner season for both programs, the Eagles will put their winning streak on the line this Saturday against Division I opponent Foothill at the Henderson Multigenerational Pool.
Boys Golf
The Boulder City golf program rattled off two more league victories this past week, putting them in the driver's seat of the Division I-A Sunrise race thus far.
Beating out Needles and Virgin Valley during meets hosted at The Palms and at Las Vegas National, April 20 and Monday, respectively, the Eagles advanced to 5-0 in league play this season, courtesy of an all-around effort from the team's core four.
Junior Kyler Atkinson, following a slip up at The Palms where a fourth-place finish for the star golfer is considered a disappointment, rebounded nicely at Las Vegas National, placing first at the event with a score of 79 on the par-72 course. Still managing to have a solid outing in the Eagles' first meet of the week, despite not claiming the top spot, Atkinson also shot a 82 on The Palms par-71 course.
Junior Cade Neilson also had a solid outing, pairing with Atkinson to provide the Eagles with a solid one-two combo as they look primed to contend for their fifth consecutive state tournament appearance. Placing third at The Palms, Neilson shot a 78, while upping his performance in meet two with a score of 82 and second-place finish.
Giving the Eagles all-around depth, junior Samu Jancuk placed fifth at The Palms with a score of 86 and seventh at Las Vegas National with a score of 90, while sophomore Jackson Wright placed seventh and fifth, respectively, with scores of 88 and 85.
Peaking at the right time, the Eagles will conclude their regular season at The Palms this week, where they'll look to go for the sweep of their Division I-A Sunrise League schedule.
Softball
Behind a powerful lineup, the Lady Eagles advanced to 11-0 on the season in Division I-A Sunrise League play, routing Del Sol 18-1 and Virgin Valley 15-5 April 21 and Monday, respectively.
Run ruling both teams, Boulder City's offense sparked April 21 in the fifth inning, erupting for 12 runs against the Dragons, that set the tone for Monday's rout of the Bulldogs.
Churning out her best individual performance of the season, sophomore Jerra Hinson batted a perfect three-for-three against Del Sol with a pair of triples and three runs batted in, while sophomore Bailey Bennett-Jordan batted two-for-four with three RBIs and a triple as well.
Continuing her career year with Lady Eagles, Hinson batted one-for-two against the Bulldogs with a pair of RBIs, bring her batting average up to .500 on the season, while senior star slugger Charlie Masterson batted one-for-three with a three-run home to fuel the victory.
Picking up her 12th win of the season against the Bulldogs as well, Masterson threw three innings in which she struck out seven batters, while Bennett-Jordan picked up her ninth win of the season against the Dragons, following a five-inning outing where she struck out 10 batters and allowed just one run over five hits. The 22-5 Lady Eagles will put their eight-game winning streak against Division I-A opponents on the line Friday when they host perennial power Spring Valley in a nonconference showdown.
Contact Robert Vendettoli at BCRsports@gmail.com.
Schedule
Boys Golf
■ Today, vs. Green Valley, at Legacy Golf Club, 3 p.m.
■ Monday, vs. Pahrump Valley, at Mountain Falls Golf Club, 2 p.m.
Softball
■ Friday, vs. Spring Valley, 3:30 p.m. varsity; 3:30 p.m. at Spring Valley, junior varsity
■ Tuesday, vs. Chaparral, 3:30 p.m., varsity; 3:30 at Chaparral, junior varsity
Swimming
■ Saturday, vs. Foothill, at Henderson Multigenerational Pool, 8 a.m.