Swim teams cruise in season's toughest meet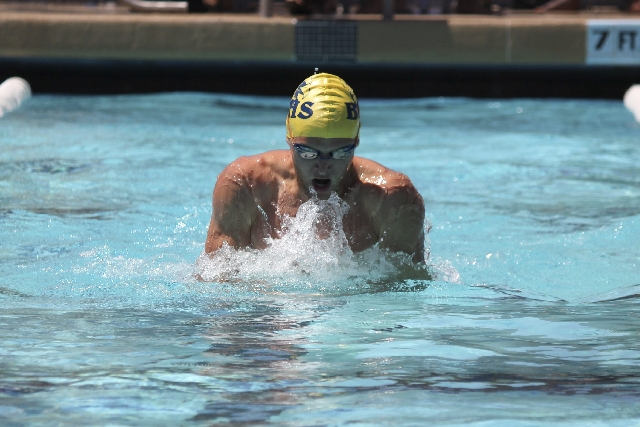 The Boulder City High School boys and girls swim teams continued their strong seasons by beating Green Valley High on Saturday at the Henderson Multi-Generational Pool.
The Lady Eagles girls team dominated the Gators 181-119, while the boys won by a large margin 169.5-122.5 despite missing their senior leader, Jeremy Estes, who was out on a college visit.
The girls were led by freshman Becca Lelles, senior Cori Molisse and sophomore Alex Hubel, who all won two individual events each for the Bolder City girls. Lelles won the 200-yard individual medley in 2 minutes, 13.22 seconds, and the 100 breaststroke in 1:11.19; Molisse won the 100 butterfly in 1:00.83 and the 50 freestyle in 24.57; and Hubel won the 200 freestyle in 1:55 and the 100 freestyle in 53.69.
Senior Megan Purdy won the 500 freestyle in 5:08.63 for the Lady Eagles other individual win.
The girls also won the 200 medley relay, 200 and 400 freestyle relays.
The boys' side had three swimmers win two individual events. Joe Gebhart won the 100 freestyle in 47.84 seconds and the 100 backstroke in 53.69; Jared Smith took the 200 freestyle in 1:43.63 and the 500 freestyle in 4:45.16; and Gunner Braden nabbed the 100 breaststroke in 1:00.59 and the 50 freestyle in 21.94.
The boys won one other individual event with Sam Sauerbrei winning the 200 individual medley in 2:01.75. The Eagles also won the three relay events.
Braden said his team stepping up to fill the void left by Estes was key to pulling out the win against the Gators. The boys team, which won the last two state titles before this season's realignment, hasn't lost a dual meet in 13 years.
"I'm proud of my team," Braden said. "We all stepped up today because we were missing Jeremy (Estes), our other fast guy, so we had to put a lot on Green Valley and kept our win streak going and I am proud of our guys."
Coach Lara Carroll echoed Braden's point as she said she was pleased with the boys' result Saturday especially with Estes being out of action.
"It was a really tough meet because we were missing one of our key guys , and Green Valley is an outstanding guys' team," Carroll said. "It was really close but the guys really brought their A-game and kept our 13-year winning streak alive."
Carroll went on to applaud the girls squad for accomplishing a feat that previously never happened at Boulder City High School.
"I'm very happy that the girls got their first undefeated dual-meet season in the history of Boulder City High School," Carroll said.
With the Green Valley match being the toughest challenge Boulder City has seen all season, the meet could be seen as their state title match as the regional and state championships should offer little competition to the Eagles in 1-A.
Braden said he wasn't in favor of the realignment as it made this year a less competitive as a whole not seeing more of the top schools.
"This year is a lot slower than the past few years have been because of moving down," he said. "I'm kind of bummed out that we did, because this is the only dual meet that we actually had to try on this season next to state and that's probably going to be a walk-through, too."
Carroll also sees the regional and state tournament being something the Eagles can win fairly easily and thinks the boys can take home their third-straight state title and the girls can claim their first.
"It's going to be a bloodbath (the regional and state finals). Our kids are going to destroy them (the competition): girls and boys. I mean I'm sorry but that is just how it is.," Carroll said.
"It won't always be like that, but this year you know barring arrests or meteorites falling on them, we should be both regional and state champs in both men's and women's. I mean just look at the times and that's how it pans out."
The 1-A Southern Region swim finals are May 11 at UNLV, with the state meet in Carson City on May 18.