Swim champs honored by council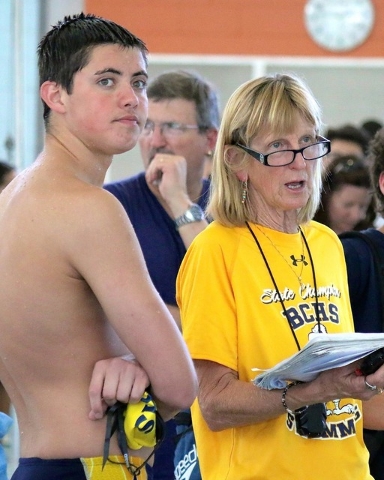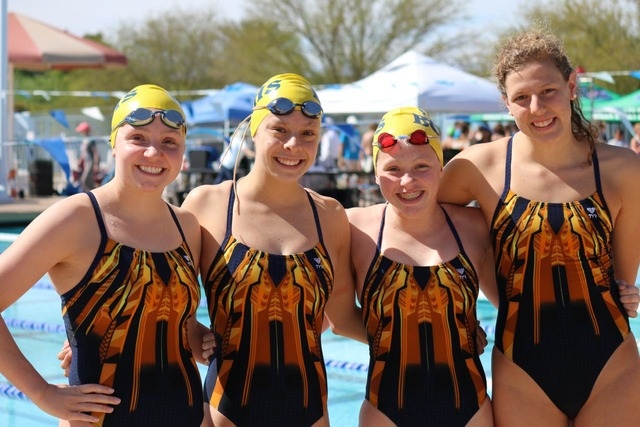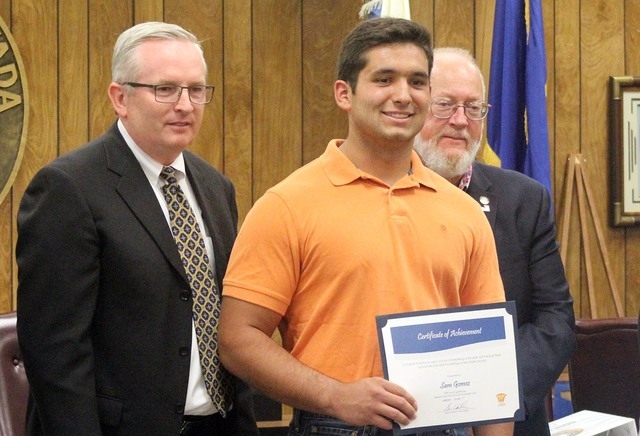 Newly crowned Division I-A state champions, the Boulder City High School's boys and girls swim programs were honored Tuesday by City Council for their achievements, both collectively and individually.
"It was really nice for our City Council to recognize our kids for their accomplishments," head coach Sara Carroll said. "They've all worked so hard up to this point to continue the success we've had in years past. This one was truly special for both programs."
Honored individually, Carroll was named coach of the year for her efforts in guiding the boys to their sixth consecutive state championship, in a season where she thought the odds might have been stacked against them.
"The boys really put it together late in the season," Carroll said. "Obviously we knew we had the talent to compete, but the rest of the region really caught up to us this year. Our numbers weren't as large as previous years, but they dug deep and pulled out another victory."
Presented with a pair of certificates for each team's success, City Council also recognized the efforts of a few key standouts for the Eagles and Lady Eagles, with senior Nick Lara earning first-team All-State honors for the boys.
The Eagles' senior leader, Lara concluded his time on the team with a first-place finish in the 100-yard butterfly at the Division I-A state championship meet with a time of 51.99. For his efforts, the Navy commit was awarded Division I-A Sunrise swimmer of the year.
"It's been an amazing journey at Boulder City," Lara said. "I'm truly going to miss it, but I'm excited about the next chapter in my life. I'm proud of all that we were able to accomplish together. It's a wonderful feeling not only to be recognized as a champion, but for your individual talents as well."
Junior Montana Lloyd was recognized as a first team All-State swimmer for the girls, with freshman Rose Pouch following her with a second team selection. Juniors Abby Sauerbrei and Mandy Gebhart and freshman Aimee Garcia were honored for their honorable mention selections.
Leading the way for the Lady Eagles during their dominant state championship meet for their fourth straight title, Lloyd completed the sweep in the 200-yard individual medley and in the 100-yard backstroke with times of 2:05.30 and 56.31 seconds, respectively, which set new Division I-A state records.
"This past season was a wonderful experience," Lloyd said. "Winning state was an amazing accomplishment for us again and setting state records is going to be something I'll never forget.
I'm just glad I have one more year with this program."
Pouch ended her freshman campaign with first-place finishes in the 200-yard freestyle (1:53.75) and 100-yard freestyle (53.39) at state, while Sauerbrei placed first at state in the 100-yard butterfly with a time of 59.50 seconds and Gebhart placed first in the 500-yard freestyle with a time of 5:01.62.
"I'm proud of everyone for their accomplishments," Carroll concluded. "They've all worked very hard and they deserve to be recognized for their efforts. I'm happy to have everyone back again next season, with the exception of Nick and we look forward to competing for another championship."
Contact Robert Vendettoli at BCRsports@gmail.com.
State discus champ honored
Also recognized Tuesday night by City Council for his achievements, senior track and field star Sam Gomez was presented with a certificate for breaking the program's 30-year discus school record.
Outthrowing the previous mark of 166 feet by former Boulder City great Chris Wells, Gomez extended the record to potentially an unbreakable distance, heaving his Division I-A state championship meet throw to 189-11, which was the top mark in the state this year regardless of classification.
For his efforts, the four-year varsity letter-winner was named a first team All-State selection, following 12 first-place finishes in the discus competition and nine first-place finishes in the shot put competition this season, becoming one of only three Division I-A participants to make the 12-man team.
A Cornell commit, Gomez successfully defended his Division I-A discus state championship in May in Reno, Nevada, while placing second in the shot put competition. When asked if he has any fond memories of his record-setting day, the senior valedictorian replied that the weather was very nice, taking the spotlight away from his accomplishment, as he often does.
Brains, bronze and humility, Gomez is certain to succeed at the next level.