Summer ball club helps athletes hone their skills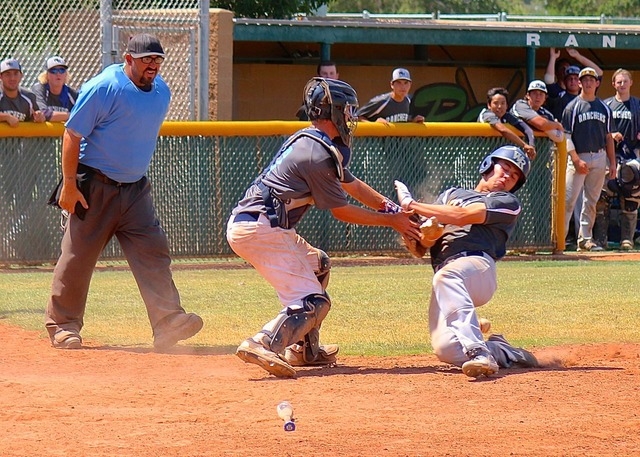 Summer baseball in the state of Nevada has grown more seriously over the years, nearly taking over the sport in terms of importance.
It's not enough nowadays to just play for your high school's varsity team. With recruiting getting tougher, the competition getting steeper and the pace of the game developing, players serious about their commitment to the sport need to invest in the right summer program to take their talents to the next level. Highly talented junior Eagles Jake Hubel and Kodey Rahr certainly got that message loud and clear.
Despite being a pair of standouts on the Eagles' Division I-A state championship team, the dynamic duo will be playing their summer baseball with the Southern Nevada Bulls baseball organization as part of the 19u college team. They hope to not only develop their talents more for a repeat next season under Boulder City head coach Bobby Reese, but also to improve their recruiting prospects.
"I think kids playing summer ball is the best thing kids can do in a controlled environment," Southern Nevada Bulls coach Chris Martinez said. "Whether it's with my team or their high school teams, more at bats and playing different roles in a team is so important. Everyone nowadays plays, it seems, to get exposure or be seen. We have had over 70 kids move onto college that have played with our program."
Hubel and Rahr are right on the cusp of becoming big-time players in the Division I-A ranks for the Eagles next season following breakout junior campaigns and the departure of many seniors. For them, the experience they gain this summer with the Bulls is what's going to propel them to the next level.
"I'm thankful for the opportunity to play with the 19u Southern Nevada Bulls travel team this summer since our high school does not have a higher level 18u team this year," Hubel said. "When I saw the Bulls' roster I was excited to see familiar names from the 18u ABD Nevada team I played with last fall. We have collegiate players, high school players from other schools in the (Las Vegas) valley, and a few out-of-state high school players.
I'm really looking forward to this summer, playing with a new team at a much higher level of competition and working toward my goal of playing collegiate baseball after my senior year."
A prominent organization in the past that has an extensive alumni list, the Southern Nevada Bulls are highly regarded as one of the premier travel organizations in town, routinely guiding their athletes toward the collegiate ranks, with a few already making their impact in the Major Leagues.
Hopeful to be part of the next wave of Bulls to sign on with a university, Hubel and Rahr are doing their best this season to get the most out of what seems to be a golden opportunity.
"This is where all the top players play," Hubel added. "Travel ball on the summer circuit is played at a much higher level and intensity than high school.
Playing with college players and upper level high school players is a great opportunity to help prepare Kody and I for college baseball after next season. We're getting the opportunity to see faster pitching; the ball moves around quicker and, on average, the players are much stronger and aggressive."
Well on their way to a summer packed with baseball, the Eagles' duo will take the field this week with the Bulls during the seventh annual Las Vegas Summer Classic at Centennial High School, to be played today through Sunday, where they hope to not only improve their skill-set, but get noticed from collegiate recruiters in the process.
Contact Robert Vendettoli at BCRsports@gmail.com.