Sports roundup: Solid performances prepare track stars for regionals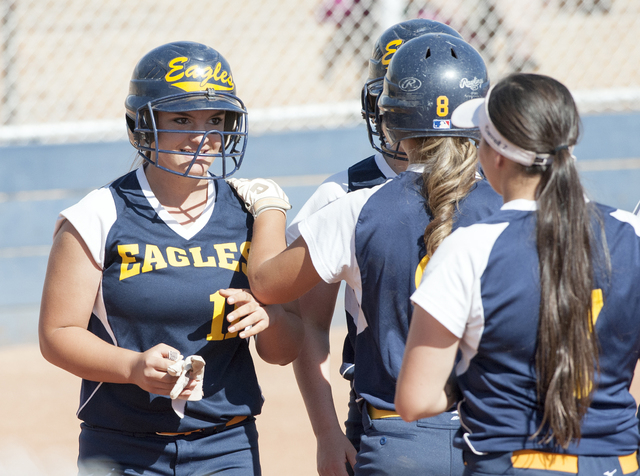 Boulder City High School's track and field programs placed second behind host Faith Lutheran on April 27 during a four-school meet.
"It was a solid week overall," head coach Joshua Fisher said. "As we prepare to go into regionals, everyone on both the boys and girls team has stepped up their efforts. It's been fun to watch."
For the boys, senior Sam Gomez continues to close out his prep career in style, the front-runner to make it to state in the discus and shot put competitions. He placed first in both events.
"Sam is on the right track," Fisher said. "We fully expect him to end the season on a high note, and despite all of his success, he's still working hard to reach that goal. We expect him to compete for another state championship in the discus event and continue to add on to what is now his school record."
Seniors Troy Wilborn and Nicolas Pfeiffer are also hopeful to find their way to state with Gomez, with both peaking at the right time.
In the pole vault event, Wilborn took first place with a leap of 12 feet, while finishing fourth in the high jump, fifth in the 300-meter hurdles and sixth in the 110-meter hurdles as an all-around contributor for the Eagles. Also an all-around contributor, Pfeiffer placed first in the triple jump with a leap of 36-9, while placing fourth in the long jump and eighth in the 200-meter dash.
"Both of those guys have really stepped it up and are trying to end their careers on high notes," Fisher said. "They have the tools to make it, if they continue to work for it."
Rounding out the boys' efforts, sophomore John Krausman placed first in the 800-meter race and fourth in the 400-meter race, while junior Sebastian Balmer finished third in the 110-meter hurdles and seventh in the long jump.
For the girls, sophomore distance runner Sierra Selinger continues to shine and could be a four-event participant at the state meet if she keeps her current pace. Competing in the 1600-meter and the 3200-meter races, Selinger placed second and first, respectively, for the Lady Eagles.
"Sierra is special," Fisher said. "She's got it — the right attitude, the work ethic. She very well may compete in four races for us at state; that how special this season has been for her. I'm very happy for her. She's done great for us all season and she deserves this."
Also peaking heading toward the postseason are senior Paige Buettner and Bayden Huxford, who Fisher said should both compete for state qualifying spots as well.
Placing first in the 200-meter dash with a time of 26.42 seconds, Buettner also placed third in the long jump with a leap of 13-6. Having a solid day as well for the Lady Eagles, Huxford placed second in the pole vault event with a leap of 7 feet, while placing third in the 100-meter dash with a time of 13.41 seconds.
"They've been leaders for us all season," Fisher added. "It's nice to see them continue to shine and progress toward their goals."
Rounding out the Lady Eagles' efforts were juniors Kenadee Bailey and Jordyn Trobiani and sophomores Nicole Valle and Maida Nelson.
Bailey, placed fourth in the 100-meter hurdles and second in the triple jump, while Trobiani placed second in the high jump and third in the triple jump. In the discus and shot put competitions, Valle placed first in both events, while Nelson placed second in the long jump and third in the pole vault.
Softball
It was a career day for sophomore Lily Osman Tuesday against Chaparral, one that may not be duplicated by her or any Lady Eagle for quite some time.
Playing a large role in Boulder City's 19-2 rout over the Cowboys, Osman batted 3-for-4, with three home runs, including a grand slam, and 10 runs batted in to lead the Lady Eagles to a five-inning mercy rule victory.
Far from a one man show, the Lady Eagles also got huge contributions from sophomore Jerra Hinson, who batted 3-for-4 on the day with a home run, a double and two RBIs, while seniors Kylee Hamel, Jeanne Carmell and Bryanna Lopez each batted 3-for-4 for the Lady Eagles.
Throwing an absolute gem, senior Charlie Masterson tossed a three-hitter against the Cowboys, striking out 11 batters for Boulder City on senior night to pick up her 13th victory of the season.
Clinching the Division I-A Sunrise League title for the eighth consecutive season with their victory over the Cowboys, the Lady Eagles also routed Southeast Career Technical Academy April 27, prior to a tough 11-4 home loss to Spring Valley on Friday.
Concluding their regular season slate this week, the Lady Eagles will travel to Moapa Valley today, followed by a contest with Division I program Arbor View before the start of the postseason.
Boys Golf
With the postseason looming, the Boulder City golf program suffered an uncharacteristic loss on Monday to Pahrump Valley.
Getting outscored 416-441 at Mountain Falls Golf Course, the Eagles fell short of sweeping through their regular season competition, but still have a great chance of making it to their fourth consecutive state tournament appearance.
Shooting a 76 on the par-72 course, junior Kyler Atkinson continues to have success heading toward the playoffs, placing second for the Eagles.
Results from Wednesday's Sunrise League Match at The Palms will appear in next week's issue, along with a breakdown of the Eagles' postseason outlook.
Contact Robert Vendettoli at BCRsports@gmail.com.
Upcoming games
Boys Golf
■ Tuesday, Sunrise League regionals, at Palm Valley, 12:30 p.m.
■ Wednesday, Sunrise League regionals, at Siena, 12:30 p.m.
Softball
■ Today, at Moapa Valley, 3:30 p.m. varsity; 3:30 p.m. at home, junior varsity
■ Friday, vs. Arbor View, 3:30 p.m., varsity; 3:30 p.m. at Arbor View, junior varsity
■ Tuesday-May 14, Sunrise League regionals, TBA
Track and Field
■ Friday, Grant Bushman Invitational, at Moapa Valley, TBA.