Sports Roundup: Potter continues to shine
September 23, 2015 - 2:58 pm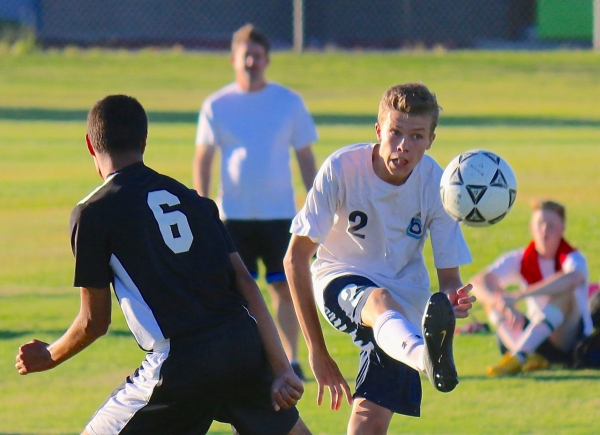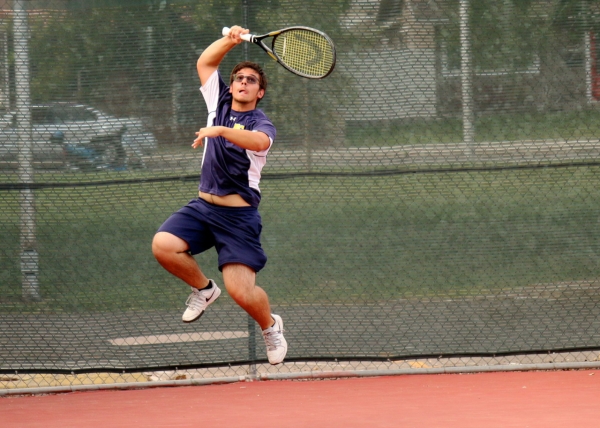 Girls Golf
Despite finishing third in Monday's match behind Division I powerhouse Coronado and Green Valley, the up-and-coming Lady Eagles found a pair of bright spots during their interleague match at Boulder Creek Golf Course.
"It was a great experience to play two of the better teams in the valley," coach Andrew Schaper said. "By playing against Coronado and Green Valley, the girls were able to see a higher quality of play, to judge where they hope to be in the upcoming years."
Competitive throughout the nine-hole course, the Lady Eagles narrowly missed out on upsetting the Gators (204), finishing with a team score of 212. The Cougars would finish atop the pack, placing eight golfers within the top 10 to finish with an overall score of 150.
Behind sensational sophomore Lani Potter, the Lady Eagles were able to stay within the matchup for most of the day. The sophomore, who is perhaps the Division I-A Sunrise top golfer, held her own with the Coronado freshman duo of Victoria Estrada and Olivia Yamamoto, shooting a 38 on the 36 par course, just one behind the low score of the day.
"Lani played well against the strong Division I Coronado team," Schaper said. "It is good to see Lani play at the same level as the best players in the Las Vegas Valley. It's a great confidence builder for her leading into the next couple of league matches."
Behind Potter, freshman Madisan Walker (13th), junior Lauryn Norris (14th) and freshman Ryann Reese (15th) would finish in the top 15. Walker finished with a score of 53, with Norris and Reese finishing with scores of 59 and 62, respectively.
Placing 16th for the Lady Eagles was junior Holly Pipper, who concluded the day with a score of 63.
With their third-place finish, the Division I-A Sunrise leading Lady Eagles will resume league play today at Boulder Creek, followed by their second two last league matchups on Wednesday at Wildhorse Golf Course.
— By Robert Vendettoli
Girls Tennis
Currently sitting at 3-2 on the season, both the boys and girls tennis programs have work to do if they want to stay in the playoff hunt.
"Both boys and girls have been working hard this season to get the outcome that we have had so far for the season," head tennis coach Katy Nash said. "With the end of the season coming up, we are looking to focus on getting both teams to regionals."
Seeded fourth in the Division I-A Sunrise conference at the moment, both Eagle squads have tough road matchups ahead, traveling to No. 1 Moapa Valley and No. 3 Virgin Valley.
This past week during their two-game slate, the girls program split their series, picking up a 14-4 victory over Sunrise Mountain on Sept. 17 before falling to No. 2 seeded Desert Pines 6-12 on Monday.
Against the Miners, freshmen Harley Fullmer and Natalie Bowman would each sweep their singles competition sets 3-0 on the day, while junior Natalia Fullmer concluded her afternoon 2-1. The team of juniors Kyra Yamamoto and McKenna Frazier came away with a victory, sweeping their doubles matches 3-0.
Against Desert Pines Monday, both Fullmer sisters and Bowman came away with 2-1 singles victories, but the Lady Eagles would not be able to overcome strong Jaguar doubles tandems.
For the boys, the Eagles won by default against the Miners in a match that only saw a few single matches. Monday's 7-11 loss to the Jaguars did sting a bit; but overall shows just how far the program has come this season after surpassing last season's win total of two.
Against the Jaguars, Sophomore Andre Pappas concluded his day 2-1 in singles competition, while sophomore Sam O'Berto split his series 1-1. In doubles competition, sophomores Tanner Montgomery and Garrett Leavitt finished their day 2-1.
Heading into the final stretch of the season, the Eagles will travel to Moapa Valley on Friday to face the Pirates, followed by a Tuesday trip to Virgin Valley to square off against the Bulldogs.
"The next two matches will be a good opportunity for the teams to fight and secure the team spots for regionals," Nash said. "We will continue to practice drills that will improve our games even more and be ready to finish the season strong."
— By Robert Vendettoli
Boys Soccer
Eight players for Sunrise Mountain contributed to its dominant win over Boulder City in boys soccer, 8-0 last Friday afternoon.
Musio Jimenez-Vasquez scored three goals and Ismael Arambula chipped in two more for the Miners, who led 6-0 at halftime.
The Eagles' second half defensive adjustments from previous games were absent against Sunrise Mountain, which added two more goals in the shutout.
The Miners are now undefeated on the season at 3-0, while Boulder City sits at 0-5 and still seeks its first win.
Earlier this month, the Eagles lost 8-3 their Sept. 16 match against Chaparral. It was the first league game of the season. Scoring goals for Boulder City during the game were John Krausman, Alex Krausman and Monte Morris.
The Eagles will take on Southeast Career Technical Academy at 3 p.m. today on field No. 1 at Heritage Park, which is located at 350 S. Racetrack Road in Henderson.
— By Randy Faehnrich
Girls Soccer
After a 2-10-2 campaign last season, Boulder City girls soccer head coach Duncan Stark has already seen improvement within his ball club three games into the season.
"The team is starting to understand what we are trying to accomplish and starting to gel together as team," Stark said of his ball club. "Even though Friday's loss to Sunrise Mountain was not in our favor, I am happy with the individual growth of most of the team, both on the varsity and within our younger group on the junior varsity level."
Dropping Friday's contest to the Miners in a 4-1 loss, the Lady Eagles split their two-game series this past week, picking up their first win of the season with a 2-1 road victory over Chaparral on Sept. 16.
Entering the week with a 1-2 record overall and 1-1 record within the Division I-A Sunrise conference, the Lady Eagles got a pair of unassisted goals from sophomore forward Rebecca Smith and senior middle fielder Oshauna Remy in their victory over the Cowboys, while senior forward Lauren Mullins scored on an assist from sophomore middle fielder Nicole Valle in their 4-1 defeat to the Miners.
Throughout Boulder City's first three games, seniors Paige Buettner and Jeanne Carmell have also been instrumental in the Lady Eagles' play.
"Even though she didn't get on the score sheet, Paige Buettner was a key to our win at Chaparral," Stark added. "Jeanne Carmell has also been key for us so far, proving to be a team leader both on and off the field. She has become a role model for our younger players."
With many tough opponents remaining on their schedule, Starks feels encouraged about the Lady Eagles' progression throughout the first stretch of their season.
"We're playing against teams who have athletes that play year-round soccer. While we expect there to be many tough games remaining on our schedule, I couldn't ask any more from our players and the effort they put in on the field."
The Lady Eagles will resume their schedule Monday when they travel to Desert Pines (1-1-1).
— By Robert Vendettoli