Solid pitching, hitting key to Lady Eagles' wins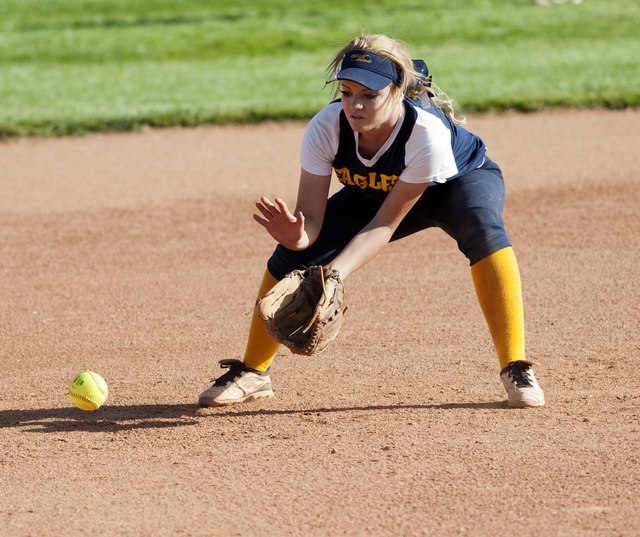 Junior pitcher Charlene Masterson led the Lady Eagles softball team to a 12-2 win over Chaparral on Tuesday, giving Boulder City its sixth consecutive league win. The team is now 6-0 in the league.
Masterson pitched a complete game with 10 strikeouts and two walks.
"She's just solid," head coach Angelica Moorhead said. "She's just so confident in the circle, and that's what she does and she's great at it."
Masterson says she doesn't think about maintaining composure while pitching a game; she thinks about what she needs to do and then does it.
In the circle, she said she doesn't think about anything. She just smiles, does her job, and has a great time.
The Lady Eagles backed Masterson's pitching efforts by scoring 12 runs with only four hits.
Kylee Hamel scored three runs with an additional run batted in. Alyssa Ybarra and Bryanna Lopez brought in two each.
Boulder City strives to play efficient softball, aiming to win games in five innings instead of the full seven. Moorhead said she believes hits play a big part in accomplishing that goal.
This is the Lady Eagles' ninth game this season that has ended in fewer than seven innings.
"Just hitting the ball," Moorhead said. "I think the first and second inning we hit the ball, and that's where we started getting all our runs, and that's what our goal is. We want to try and get our 10 runs to finish in the fifth. That's what we like to try and do, or accomplish, if we can."
The Lady Eagles erupted in the second inning, scoring eight runs to put them ahead 9-0 over the Cowboys.
Boulder City has another home game at 7 p.m. Friday night against Las Vegas High School.
The Lady Eagles are looking to continue their league streak.
"For us, it's to come and play our game," Moorhead said. "That's what we need to do, so that's what we try and focus on is coming to play our game."
Friday night is taco night at the softball game, and carne asada will be available for purchase outside the concession stands. Fans can get rice, beans, a couple of tacos and a drink for $5.
Contact Rochelle Richards at BCRsports@gmail.com.