Softball team tops standings in league play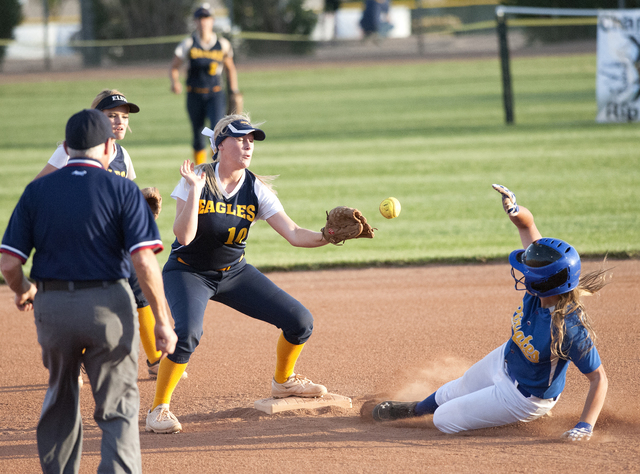 The Lady Eagles softball team ended its regular season undefeated April 29 after a 6-3 win over Moapa Valley.
"We had a super season, which is awesome," coach Angelica Moorhead said. "It's going to be a tough little road for us next week, just to see some better quality teams."
The Lady Eagles were 14-0 in league play and 23-8 overall. Throughout the season, Boulder City has remained at the top of the standings, with Sunrise Mountain coming in second with an 11-3 league record.
Against Moapa, Charlie Masterson pitched a complete game throwing 111 pitches, 76 for strikes with 12 strikeouts.
Jordan Moorhead and Lily Osman both had two RBIs, while Lauren Axelson had one.
It was also senior recognition night for Boulder City, with Jessica Embro, Alyssa Ybarra and Axelson honored before the game.
With the regular season over, Boulder City is working hard to make sure its ready for the playoffs.
Ybarra said outfielders are working on hitting their cuts, while infielders are improving fielding and picking up the ball better.
"We're working in getting our errors down, and once we do that I think we'll be pretty good," Ybarra said.
Boulder City beat Cheyenne 3-0 earlier in the year during the Las Vegas tournament. Since the team was able to beat them earlier in the year, the Lady Eagles were hopeful that they could do it again.
And they did, 3-1 Tuesday afternoon.
Masterson pitched another complete game, throwing 100 pitches, 66 for strikes and recording 11 strikeouts. She, along with Embro and Lopez, had one RBI.
It's been a busy season for Boulder City, and from here forward, it's only going to get harder. Ybarra said the team has been strong all season, and she hopes to help her team finish strong her senior year.
This season will be Ybarra's 10th attempt to win a state championship with a Boulder City sports team, such as basketball and volleyball.
"I'm excited, and I hope these girls are excited and ready to work hard and keep our errors to a minimum and want to go to state the following week," Moorhead said. "The other side is a tougher side so we need to be ready to go."
Moorhead believes that her team is a great group of girls, and they work hard for what they want.
Overall, she is happy with the season even though there were some tough games that the team should have won.
"I always want more from them, and they should want more from each other and from themselves," she said.
Boulder City hosted Faith Lutheran (27-8) in a winners' bracket semifinal Wednesday, but the results came in too late for this week's issue. Faith Lutheran beat Moapa Valley 7-3 Tuesday.