Softball team increases league lead
April 29, 2015 - 12:50 pm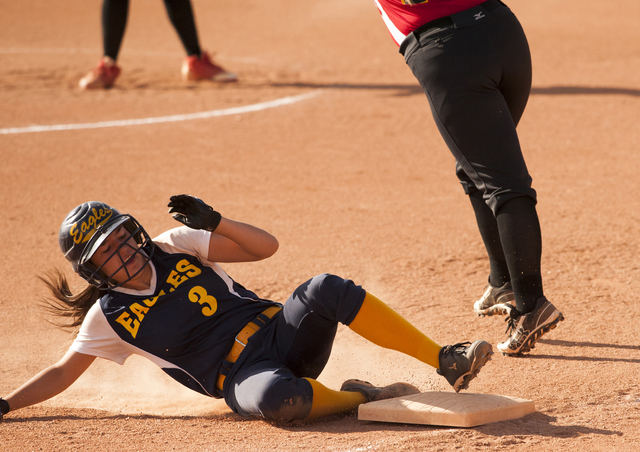 The Lady Eagles softball team continues its winning season, putting it further ahead in first place for league standings.
The Boulder City softball team is first in Sunrise Division I-A standings with a 12-0 league record. The second-place team is Moapa Valley, which has a 9-3 record.
The Lady Eagles pull further ahead of other schools in the league with every game they play. Last week, was no exception.
On Wednesday, Boulder City hosted Southeast Career Technical Academy and won 12-2.
The Lady Eagles led 6-1 after three innings and never looked back.
Charlie Masterson pitched a complete game throwing 85 pitches, 65 for strikes and recording eight strikeouts.
Kylee Hamel and Masterson each had two RBIs, while Jordan Moorhead, Lauren Axelson, Bryanna Lopez and Jerra Hinson all had one.
After the win against Tech, the Lady Eagles hosted Bonanza on Friday night, earning another win, They topped the Bengals 17-0.
Masterson pitched another complete game, throwing 69 pitches, 54 for strikes, and struck out nine.
Micayla Gegen was 1-for-3 at the plate with four RBIs. Teammates Lopez and Hinson each brought in three runs, while Alyssa Ybarra and Lily Osman both brought in two.
Monday afternoon, Boulder City traveled to Chaparral and won 11-0.
It was another complete game for Masterson; she threw 65 pitches, 46 for strikes, with six strikeouts.
Ybarra was 1-for-4 at the plate with two RBIs. Masterson, Lopez, Hinson and Gegan each had one RBI.
The Lady Eagles played their last regular-season game Wednesday night against Moapa Valley, but the results came too late to be published.
Swimming
As the Boulder City swim teams near regionals, the boys and girls teams had some quality runs with swimmers beating their seed times to better their chances for regional competitions.
Last week, the boys and girls teams won their meets over Southeast Career Technical Academy and Desert Pines on Saturday.
Against Tech, the girls team won 211-69, while the boys team won 192-64.
In the 200-yard medley relay, the girls teams took first, second, fourth and fifth. Team A recorded the fastest time of 2:02.17, compared with Tech's fastest time of 2:26.85. The boys team also placed first in the 200-yard medley relay, swimming 1:46.34 compared with Tech's 2:14.79.
Jessica Purdy finished first in the girls 200-yard freestyle, recording a time of 2:08.67, and Sam Sauerbrei swam 1:49.10 to place first for the boys.
In the boys 50-yard freestyle, Braden Klouse beat his seed time of 25.36 to place first, swimming 24.85. Clayton Pendleton and Tyler Hinson, who placed second and third, respectively, for Boulder City, also beat their seed times.
Alex Hubel beat her seed time of 59.58 in the girls 100-yard butterfly, placing first with a time of 58.03. For the boys, Nick Lara placed first with a time of 55.16, also beating his seed time of 56.78.
The boys 400-yard freestyle relay A team beat its seed time of 3:45.46 to place first with a time of 3:28.38. Tech's only team swam 5:17.72.
Boulder City beat Desert Pines, with the girls scoring 214-42 and the boys 191.5-43.5.
The boys 200-yard medley relay A team placed first, swimming 1:46.34, beating its seed time of 1:56.82.
The girls team swam unopposed against Desert Pines in the 200-yard individual medley, with Montana Lloyd placing first in 2:12.24. The boys also swam unopposed, with Jason Lyon placing first with a time of 2:10.60.
Up next, Boulder City is focusing on the Saturday's Last Chance meet. Swimmers have one last chance to best their times and qualify for regional or state competitions.