Softball team continues to dominate league play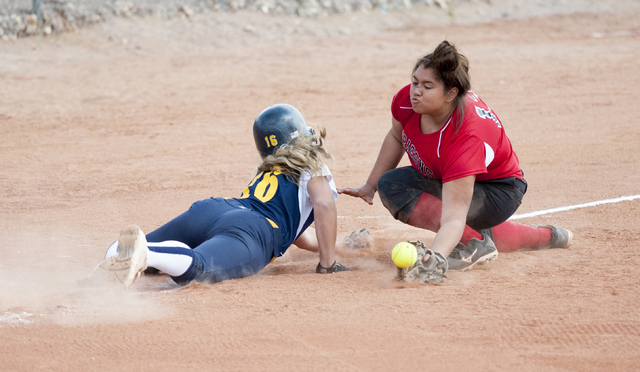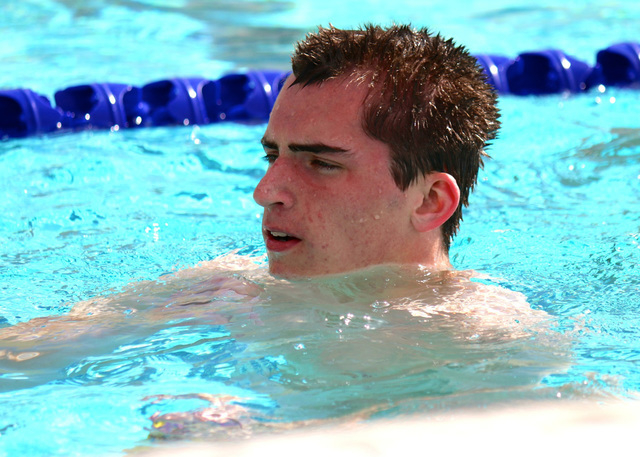 The Lady Eagles softball team from Boulder City High School put together a pair of dominant conference victories this past week against Del Sol and Virgin Valley, before eventually falling to nonconference opponent Sierra Vista in a potential Division I-A state tournament matchup later down the road in May.
Run-ruling both the Dragons and Bulldogs 19-1 and 16-1, respectively, the Lady Eagles, behind a pair of dazzling pitching performances by sophomore Bailey Bennett-Jordan, advanced to 4-0 in league play, atop the Division I-A Sunrise standing.
Throwing a pair of complete games, Bennett-Jordan struck out nine Dragon batters while allowing just one run on three hits, while striking out 10 Bulldog batters in which she allowed one run on seven hits.
Doing her best in both outings to give herself run support, Bennett-Jordan was also at the top of her game at the plate, batting three-for-three throughout both league contests, compiling four runs batted in against Del Sol and three more against Virgin Valley.
Senior slugger Charlie Masterson was also key in the Lady Eagles's victories, batting six-for-seven over the two-game stretch with a pair of doubles and RBIs apiece, while senior Bryanna Lopez and sophomore Jordan Moorhead both knocked in a trio of runs against the Dragons.
"We're rolling right along in league play right now," Masterson said. "We're playing really good ball; (I'm) hopeful to keep it up."
Concluding their week with a 7-0 nonconference road game to Division I-A Sunset leader Sierra Vista on Monday, Masterson called the outing a learning experience for the team.
"We hope to see them again in May," Masterson concluded. "If we want to win next time around though, we need to play better, we need to be perfect. They have a really good team this year; now it's time for us to play like we're capable of."
Against the Mountain Lions, Masterson threw a seven inning complete game despite the loss, striking out nine batters. At the plate, the two-way star collected two of the Lady Eagles' three hits, while her teammates had trouble hitting off of Sierra Vista junior Kalei Watkins, who is regarded as one of the top pitchers in the state regardless of classification.
Boys golf
The Boulder City High boys golf program picked up its second consecutive league victory Tuesday, sweeping its way through the competition at Desert Pines.
Earning the top overall team score on the day, the Eagles shot a 410 collective, edging out Needles (438) and Virgin Valley (459) behind the efforts of four golfers within the top five.
Junior Kyler Atkinson once again led the way for the Eagles with an overall score of 73 on the par-71 course.
Building a strong nucleus behind Atkinson, junior Cade Neilson and sophomore Jackson Wright tied for fourth place with Moapa Valley's Jacob Causey with scores of 82 on the day, while junior Samu Jancuk rounded out the top five, shooting 83.
Neilson's outing marked his first of the season since joining the golf program, while Jackson's score of 82 was a significant improvement from his score of 95 during Boulder City's first league match.
Building upon their momentum at the top, freshman Kevin Phelps also flashed his potential Tuesday, finishing the event with a score of 90, good enough for 11th place and just one stroke off of a top 10 finish.
Rounding out the Eagles' efforts, junior Andrew Kovacevich finished in 15th place with an overall score of 97.
The Eagles will continue their conference schedule in search of their third consecutive victory April 14 at Boulder City Municipal after an outing Tuesday and Wednesday at the Green Valley-Foothill Invitational.
Swimming
Following a two-week hiatus, the Boulder City High's boys and girls swim programs were clicking on all cylinders Saturday, routing Desert Pines at the Henderson Multigenerational Pool.
For the boys, the Eagles' youth movement was on full display against the Jaguars, with freshmen Paco Cuevas and A.J. Pouch sweeping their way through their pair of individual events.
Cuevas took home first place in the 100-yard butterfly (0:56.32) and 100-yard breaststroke (1:06.28), while Pouch placed first in the 500-yard freestyle (5:50.22) and in the 200-yard individual medley (2:04.33). The duo teamed up with junior Braden Klouse and sophomore Clayton Pendleton to take first place in the 200-yard medley relay as well.
Klouse also placed first in the 50-yard freestyle for the Eagles with a time of 24.04 seconds, while senior Joren Selinger placed first in the 200-yard freestyle (2:07.69) and junior C.J. Herrera placed first in the 100-yard backstroke (1:11.56).
For the Lady Eagles, juniors Montana Lloyd and Mandy Gebhart were at their best against the Jaguars, as was freshman Rose Pouch.
Lloyd took home first place in the 500-yard freestyle with a time of 5:10.91 and in the 100-yard backstroke with a time of 0:59.06, while Gebhart earned first-place finishes in the 50-yard freestyle (25:47) and in the 200-yard freestyle (2:01.06). Pouch earned first-place finishes in the 200-yard individual medley (2:17.57) and in the 100-yard freestyle (0:56.87).
Gebhart and Pouch also finished first in the 200-yard medley relay with teammates: junior Sarah Estes and freshman Annika Freiburger.
Junior Nantke Bonsack and freshman Aimee Garcia rounded out the Lady Eagles' efforts, placing first in the 100-yard butterfly and 100-yard breaststroke individually with times of 1:12.55 and 1:12.34, respectively.
Looking to continue their hot start to the season, the Eagles will face off against Division I opponent Las Vegas this Saturday at the Henderson Multigenerational Pool.
Contact Robert Vendettoli at BCRsports@gmail.com.