Softball clinches first place in league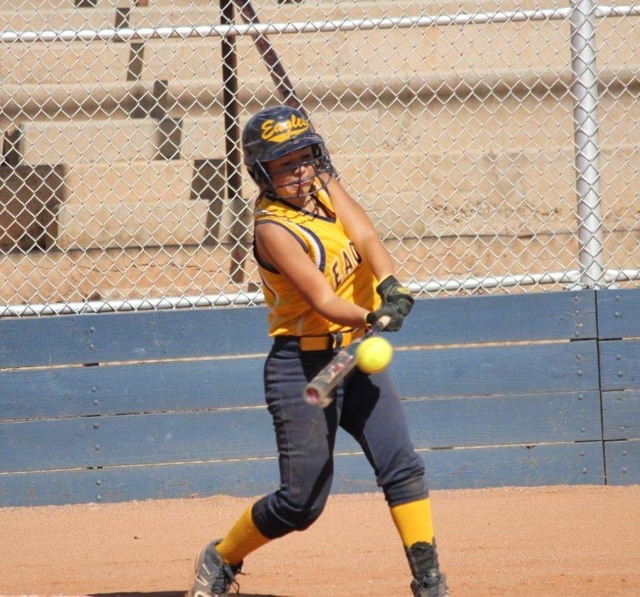 The Boulder City softball team pounded second-place Moapa Valley 10-0 Friday to clinch first place in the Sunrise League.
The Lady Eagles, 20-5 overall and 10-0 in league play, earned the No. 1 seed and will play their first two games at home in the Division I-A Southern Region Tournament, which begins Tuesday. The region final is May 17 at Mojave High in North Las Vegas.
The Division I-A state softball tournament will be at Bishop Manogue High School in Reno and at Hixson Field at the University of Nevada, Reno May 22-24. Boulder City last won the state championship in 2010.
Boulder City shut out third-place Tech (13-5 overall and 7-4 in league) at Anthem Hills Park Tuesday, winning 15-0.
Charlene Masterson pitched a four-hitter and struck out seven, assuring the Eagles' league title. Masterson was 2-for-4 with two triples and four RBIs, and Kaila Davis was 2-for-3 with two triples and two RBIs.
Boulder City, which concludes its regular season at home today with Senior Day against Sunrise Mountain, will play Tuesday in the opening round of the region tournament against the No. 4 seed from the Sunset League: Mojave (8-10 overall).
"It has been a challenging season as my first as head coach, but it has been a good year and we still have the playoffs to come," coach Angelica Moorhead said. "(Today) will be our tribute to the seniors, being that it is their last home league game of the season.
Against Moapa Valley, at Overton, Masterson pitched a five-inning three-hitter to lead the Lady Eagles past the Pirates.
Masterson, who struck out seven and didn't allow a walk, also batted 3-for-4 with a double. Katlyn Jackson, Alyssa Ybarra, Summer Smith and Bryanna Lopez each had two hits.
"We are hoping that our final game and practice this week will get us ready for region playoffs next week," Moorhead said. "The goal was to be the No. 1 seed and to have those two games at home. The girls did it. Now we just want to focus on one game at a time.
"It's hard to believe that the season is almost over and that playoffs are here. We have to play our game in the playoffs and stay at that high level. We are a strong young team, and that's exciting. All of the players have been contributing to our success, and we need to continue to trust one another and play as a team."