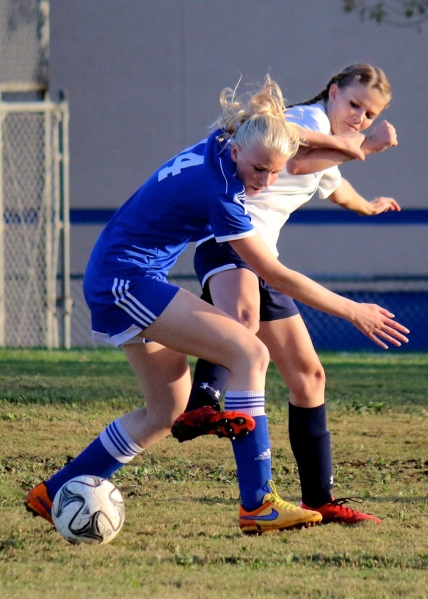 Taking a step in the right direction this past week were both Eagles soccer programs, which found a way to come out with a league victory apiece.
For the Lady Eagles, it was Monday's 6-0 victory against Del Sol that advanced them to 3-9-2 on the season, just days after pushing Moapa Valley to their breaking point despite a 2-0 loss.
Scoring a pair of goals in the first half before blowing the Dragons away with another four in the second on senior night, the Lady Eagles got six starters involved Monday during their league rout.
Senior forward Jordyn Trobiani led the way for the Lady Eagles with three goals, while senior midfielders Jeanne Carmell and Lauren Mullins, as well as sophomore Rebecca Smith, each added a goal.
Carmell and Mullins also added assists for the Lady Eagles, while sophomore midfielder Nicole Valle and senior midfielder Oshauna Remy supplied assists as well.
"It was very exciting to get a win on senior night," Trobiani said. "I've grown up playing with all of them, so for us to get a victory on our home field for the last time was truly special."
For the boys, the Eagles got their second victory of the season Oct. 22 on the road against Moapa Valley. The Eagles shutout the Pirates 3-0 before falling to postseason-bound Del Sol on Monday.
"I'm proud of the way we played this past week and certainly happy for the boys to pick up another victory," coach Chad Smith said. "We played hard this past week, as we have this entire season. It's nice to see the boys know that we're building something for the future."
Sophomore midfielder Alex Krausman was the star Oct. 22 for the Eagles, scoring a pair of goals while assisting Boulder City's third goal to sophomore forward Caden Mendiola.
The boys will wrap up their season today for senior night against Adelson School, while the girls concluded their season Wednesday on the road against Virgin Valley. Results for both outings will be posted in next week's issue.
Contact reporter Robert Vendettoli at BCRSports@gmail.com.
^
Upcoming games
Boys Soccer
Today, vs. Adelson, 3 p.m., junior varsity; 4:30 p.m., varsity
Girls Soccer
Monday, Regionals, Bettye Wilson Park, TBA
Cross-country
Today, Regionals, Veterans' Memorial Park, TBA