Soccer teams end season with losses
November 4, 2015 - 4:07 pm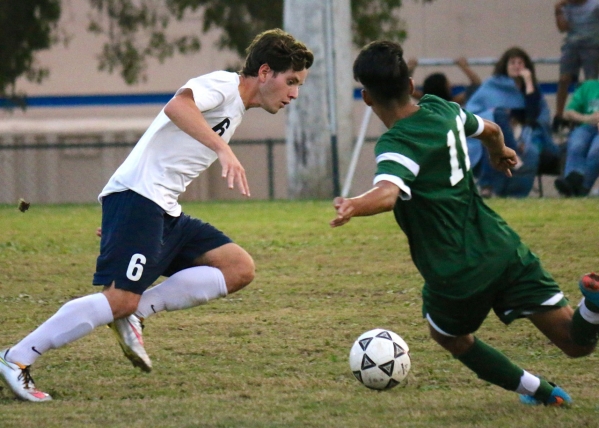 The boys and girls soccer programs ended this past week with a loss, effectively ending both team's seasons.
Following their second victory of the season a week ago against Moapa Valley, the boys (2-15-1 overall, 2-12 conference) pulled out a great effort against the Virgin Valley Bulldogs (8-9-2 overall, 4-8-2 conference) on Oct. 28 despite a 2-1 loss and then tied Adelson School (10-5 overall) 0-0 on Oct. 29 in their season finale.
Playing with a roster made up of mostly underclassman, including sophomores John and Alex Krausman, the Eagles made strides throughout despite their season-ending record and should be ready for a more competitive season next year under what would be a second-year head coach Chad Smith.
"They've all played well at different points throughout this season," Smith said in an interview before the Eagles' season finale against Adelson School. "Our record may not indicate it, but we've improved each week and will continue to do so."
For the girls (3-10-2 overall, 3-9-2 conference), the Lady Eagles followed up their 6-0 senior night victory over Del Sol on Oct. 26 with 0-7 defeat to the top-seeded Bulldogs (13-6-5 overall, 11-1-2 conference).
With six seniors graduating, including leaders Jeanne Carmell, Paige Buettner, Oshauna Remy, Lauren Mullins and Jordyn Trobiani, coach Duncan Stark will have a tall task of fielding a competitive team again next fall. Emerging sophomores Rebecca Smith and Nicole Valle and freshman Lizzie Taggard are all expected to return.
Contact Robert Vendettoli at BCRsports@gmail.com.