Smale takes second in state tourney
February 20, 2014 - 5:10 am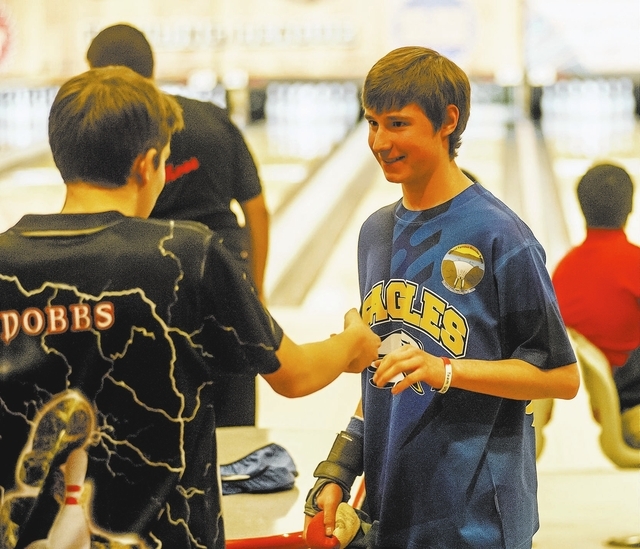 It is hard to tell who enjoyed Teagan Smale's two-week run best. It could have been Smale, a 15-year-old-sophomore at Boulder City High who had the incredible run on the bowling lanes, or his father cheering every frame along the way, or his coach who hasn't stopped bragging about his young talent.
Smale, who had the highest average in Division 1-A much of the year, led Boulder City to its first state bowling championship Jan. 30. He then came back to finish second in the first-ever NIAA individuals state championship tournament Feb. 12, and a day later finished second in the countywide MVP tournament for high school bowlers.
"It was been a good streak for me," Smale said. "We wanted to win the first state championship for the school and bring it to Boulder City. It was a big deal for all of us on the team.
"As for the individual state title and the MVP, I was happy with bowling good and having a shot at the championship each time. I didn't get it this time, but I got great experience and I'll be back next year looking to win. My goal next year is to sweep all three, the team title, the individual title and the MVP title. I like to challenge myself, and trying to sweep all three will surely push me for the next year."
During the three-event stretch, Smale bowled 22 games. On Feb. 11, in state individual qualifying match, Smale wound up the No. 3 seed of the six who advanced to the finals. On Feb. 12, he finished in second place in the individuals tournament.
Then on Feb. 13, he was seeded No. 3 but bowled his way to second place and a $600 scholarship prize in the 2014 Clark County High School MVP Bowling Tournament at The Orleans.
Smale's father, Don, was there cheering every frame. "I am very proud," Don Smale said. "He did a phenomenal job in all three tough tournaments."
Teammate Randall Berkheimer came in third place in the state with a 613 series. For the girls, Summer Smith rolled a 522 series to place third.
There were 32 schools competing in the MVP, featuring 89 boys and 74 girls. It was a four game qualifying format, and then the top five boys and girls were chosen in a Professional Bowlers Association stepladder finals.
Smale had a 903 series to qualify as the No. 3 seed. In the second match, Smale rolled a 251 game to defeat Durango's Isaiah Chavez's 240. In the third match, Smale's 269 was too much for Green Valley's Joe Gerencser's 238.
In the MVP final, Smale, has one of his worst games, unable to get his ball to roll his way, Smale bowled 175 and lost the final to Coronado's James Placek, who bowled 237.
"It is his first MVP finals, but as a sophomore, he is a threat for the next two seasons," Boulder City coach Rodney Ball said. "He was unbelievable to watch for these past two weeks. He was just on a roll. He was great to watch under pressure. What a couple for weeks for him. And, he's back two more years."
In the MVP qualifying, Berkheimer rolled 798 and was 19th, while teammates Edward Rassuchine (701) was 42nd, Ed Feeney (683) was 47th and Dylan Amico (678) was 49th.
In the girls MVP qualifying, Boulder City's Smith (553) was 37th, while Niki Schulz (552) was 38th and Amy Murphy (533) was 43rd.