Single pin vexes state champions
December 3, 2014 - 2:43 pm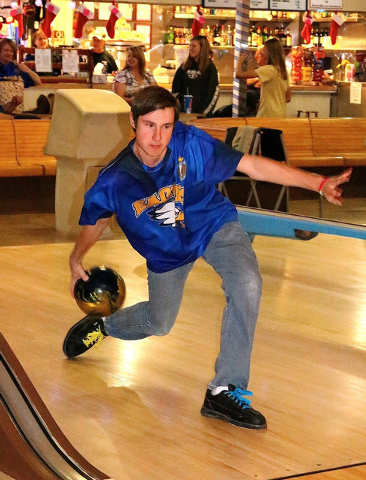 The quest for a second consecutive state championship got off to a rocky start for the men's bowling team at Boulder City High School as the Eagles lost seven of nine points against their rivals, the Chaparral Cowboys, Monday at Boulder Bowl.
With their new championship banner on display, the Eagles stormed out of the gates with a team average of 181 to win the first game, only to falter the last two and lose by a single pin.
Senior Randall Berkheimer began the Eagles' season with a flush strike to give them an early boost as Chaparral failed to convert several spares early on. The Cowboys began to hit their stride late in the first game as both teams were tied heading into the ninth frame. But a gutter ball on a spare by Chaparral's Adam Geschke, followed by a one-count on a spare by last year's individual state champ, Zachary Clark, helped the Eagles finish with a 72-pin victory.
But the second game saw a different outcome as the Cowboys cruised to a 44-pin win despite junior Teagan Smale shooting a game-high 226 for Boulder City. The Eagles clung to a 28-pin advantage heading into the final game, but the wheels fell off as missed spares continued to plague them as they tried to secure the pivotal three points that come with winning total pinfall.
A 190 game by Chaparral's Houston Hughes, as well as two clutch strikes in the 10th frame by Clark helped the Cowboys win total pinfall by a single pin, despite Smale striking out in the final frame.
The Cowboys, a team that Boulder City considers its most intense rival when it comes to bowling, left Boulder Bowl with seven points while the Eagles went home with just two. Chaparral won total by a score of 2,095 to 2,094.
"Nobody wants to give an inch," Smale said after match. "If somebody does, then the other team jumps on it right away."
Clark said the Cowboys have the momentum now that they were able to beat their rivals and the defending state champions on the road.
Despite averaging just 176 for the match, Clark said it feels good getting the win right out of the gate.
"There's no more intense match than when you play against Boulder City," he said. "Teagan got a lot better over the summer, and I think the next game could go either way. Last year we played them here and we beat them, and they played us at our home and they beat us."
The team was glum after the match, especially after losing total by a single pin. The close matches, according to Smale, is what makes the rivalry so intense.
"Sometimes, you know, we weren't really that nice to each other," he said about previous matches.
"We'll just come back stronger."
Smale led all bowlers with a 199 average. Berkheimer averaged 175, Ed Rassuchine averaged 163, and Dylan Amico averaged 160.
The Lady Eagles won all nine points during their match, including a two-pin victory in the final game. Emily Owens and Bailey Bennett-Jordan led Boulder City with 107 averages.
Boulder City took on Sunrise Mountain Wednesday afternoon at Boulder Bowl, but matches were not completed in time for the Boulder City Review's deadline.
The Eagles will take on Southeast Career Technical Academy Monday afternoon at the Wildfire Casino and Lanes in Henderson. All matches begin at 3 p.m.
Contact reporter Steven Slivka at sslivka@bouldercityreview.com or at 702-586-9401. Follow @StevenSlivka on Twitter.