Simply perfection: Lady Eagles top Foothill
January 23, 2014 - 5:05 am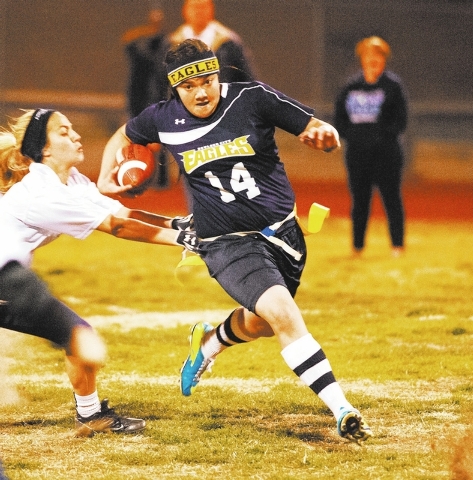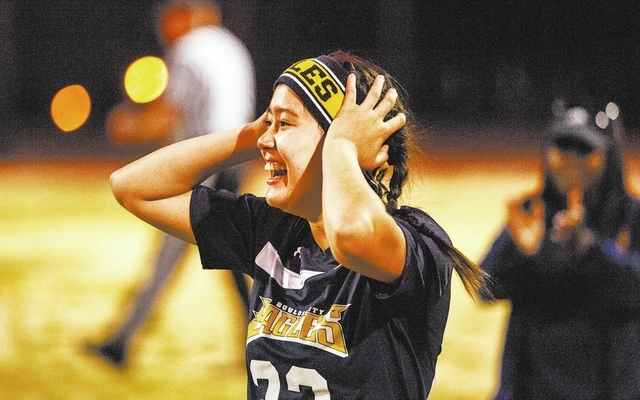 It was being called the battle for first place, but most critics secretly thought it would be less of a battle and more of a one-sided rout.
The larger and faster Foothill was supposed to do away with Boulder City's young team. But someone forgot to tell the Lady Eagles that they were in over their heads.
Friday's 13-0 victory over rival Foothill not only left Boulder City with a perfect 10-0 overall record, it made a statement that was heard countywide. The Lady Eagles are for real and will be serious contenders in the postseason.
It's only the second year of girls flag football and Foothill has been good in both seasons. This season, the Falcons are one of the more dominating teams in the county, averaging 35 points per game with the county's top offense of more than 300 passing yards and more than 400 total yards per game. Until they ran into Boulder City.
Boulder City is now in sole possession of first place in the Southeast League, while Foothill fell to 10-3 and 7-1.
"Offensively, we were able to mix up the pass and the run," head coach Chris Morelli said. "It took a while for our offense to get going because they were so fast on defense."
After a scoreless first half, the Lady Eagles' offense began to move and scored two second-half touchdowns for the win. Sophomore quarterback Jeanne Carmell threw two scoring passes, one of 10 yards to junior receiver Kinsey Smyth and one of 20 yards to junior receiver Jane Nevarez.
Morelli credits Cameron Kanaley and Kenzie Pluta with blocking on offense that allowed Carmell time to pass and lead the offense.
"Foothill had a tremendous defensive rush and we were able to hold them off on key plays with the play of Cameron and Kenzie," Morelli said. "The offense relied on several threats like Kinsey, Kenzie, Jollene Gosselin, Jessica Embro, Bryanna Lopez, Taylor Finn and Courtney Scott."
The offense got the points it needed, but the defense was suffocating.
"It is an unbelievable feeling to beat Foothill," Smyth said. "Winning is always exciting, but when everyone on the team comes out and is on the same page and executes with everything they have, it is even better. We were all over them.
"Coach Morelli prepared us on how to shut down their powerful offense, and we did just that. We have great athletes and great chemistry. I wouldn't trade them for any other players in the league. We have a special group here," she said.
This season, the Lady Eagles have been winning games with defense. They have allowed only 60 points in 10 games.
The defensive rush of linebacker Paige Buettner forced Foothill's quarterback Sam Fennell, the county's top passer, to have to make changes on nearly every play. In 11 previous games, Fennell had passed for more than 4,000 yards and 43 touchdowns.
"Paige was outstanding and she caused all sorts of trouble for the Foothill offense," Morelli said. "The entire defense came to play and prove that they were just as good as Foothill. I expected a great game, but a shutout was a bonus."
The defense, anchored by linebackers Logan and Cameron Kanaley, Embro and Alejandra Restrepo rushed Fennell and forced her to throw earlier than she wanted. The defensive corners Gosselin, Nevarez, Makenzy Waldo and Ashlen Bahtia consistently knocked down passes or made tackles after short gains.
But Morelli cautioned his team after the impressive victory.
"We will now play the second half of the season and see teams for a second time," Morelli said. "Now they know us. We are no longer a surprise after beating everyone in our league at least once. After beating Foothill and claiming first place we have a target on our back."
Tuesday, linebacker Logan Kanaley had nine tackles to lead the defense as Boulder City defeated visiting Eldorado 31-­6.
Carmell had 78 yards rushing on six attempts and completed 14 of 24 passes for 135 yards and one touchdown. Smyth had six pass catches for 60 yards and one touchdown.
On defense, Carmell and Smyth each had one interception. Smyth extended her county­ leading total to 14 interceptions in 11 games.
Boulder City is now 11-­0 overall and 9-­0 in Southeast League.
The Lady Eagles have a busy week ahead, beginning with a game at 3:30 p.m. today at Del Sol and a matchup at home with Coronado at 5 p.m. Monday. They also play at 5 p.m. Wednesday at Basic.
"Beating Foothill was a relief," Carmell said. "They weren't just any other team to beat. We had to beat them no matter what. Now, the rest of the county has to look at us differently. We just woke up some teams and, like them, know we are here.
"We know we are now the team everyone wants to beat. They will be a little harder to knock us off. But I think we are good enough to focus and be ready for whatever any team thinks they can throw at us."