September 10, 2014 - 12:44 pm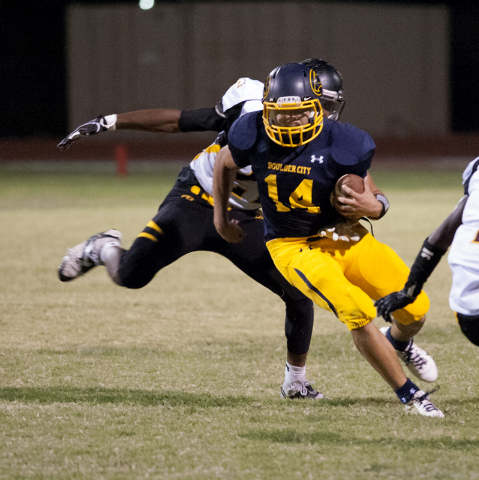 It was a career night for seniors Trenton Carmell and Brooks Roe in Boulder City's 50-21 victory Friday against visiting Pahrump Valley.
The Eagles recorded their first win of the football season behind Carmell's passing and running and Roe's receiving and defense.
"Wow, I can't believe it was so easy to run on them," said Carmell, a quarterback not known for his running ability who gained 137 yards on 12 carries. "Every time I dropped back to pass, our whole offensive line, especially Trenton Motley and Kenny Reyes, just leveled people. When I couldn't find a receiver and had to scramble, the line just made the holes."
Carmell's 137 rushing yards is a career best for him. He had runs of 31, 42 and 46 yards; the 42-yard run went for a touchdown during the second quarter. He also set a personal best of 177 passing yards, completing 12 of 16 passes.
Roe had career highs of five catches, 117 receiving yards and four touchdowns. He also scored on an 80-yard run and a 33-yard fumble return, both also personal bests.
"This is just the beginning of a great senior season. We lost last week, but we improved and came out and beat a team that won its opener by 40 points and bragged about how they would do that to us, too," Roe said. "Pahrump talked too much before the game and played too little during the game."
Roe was referring to a sports story in the Pahrump Valley Times. The Eagles were fired up when copies of the story — quoting Trojans players and coaches about how they would embarrass the Eagles on their home field — were passed along their bench during the first quarter.
"What they said in their hometown paper was unnecessary, and evidently they couldn't back up their words," Roe said. "It gave us extra motivation to prove them wrong."
The Trojans took their opening possession in for a 7-0 lead, using more than six minutes, but the Eagles answered quickly. Carmell had runs of 31 and 46 yards on the drive, the latter ending at the 2-yard line. From there, Roe followed lineman Craig Kelso into the end zone for the touchdown. Carmell's 2-point conversion pass to Austin Wishard made it 8-7.
The next score was Carmell's 42-yarder. He broke three tackles on his way to the end zone and followed with a 2-point conversion run at 4:40 of the second quarter for a 16-7 lead.
The next Eagles drive featured a 28-yard completion from Carmell to Roe to set up a 13-yard touchdown run by Logan Branscum with 56.6 seconds remaining in the half.
It was the second straight week the Eagles led at the half, as they were up 22-15 after leading Clark 22-12 at halftime of the opener. Unlike the first game, which they lost 26-22, the Eagles took command during the third quarter.
On the Eagles' first play of the third quarter, Roe took the handoff from Carmell, swept around right end and racaed 80 yards for a touchdown and a 28-15 lead.
On the first play of the fourth quarter, Carmell scrambled for a 14-yard touchdown. He added the 2-point conversion run for a 36-15 lead.
In the fourth period, Roe returned an interception 22 yards only to have it nullified by a penalty. Three plays later, he scooped up a fumble caused by teammate Jacob Jurgschat and returned it 33 yards for a touchdown, making it 44-15 after the 2-point run by Nelson Van Diest.
After a 76-yard Pahrump Valley touchdown pass cut the lead to 44-21, Carmell and Roe connected on a 61-yard touchdown to close the scoring at 50-21 with five minutes remaining.
"It was a night where we made some big plays and several players had many personal bests, but we also made a lot of mistakes at crucial times, like allowing three long scoring plays on defense," Boulder City coach Alex Kazel said. "We will enjoy this win, but we also realize that we have a lot to work on.
"We will be in league play soon, and there is little time to improve after that. We have to clean up our game now in these next two weeks."
Zach Murphy made four catches for 28 yards, while Wishard finished with three receptions for 21 yards.
On defense, Jurgschat recorded 10 tackles and Seth Kermode made five. Roe finished with eight tackles, and Branscum had four tackles and a 27-yard interception return. Carmell, a cornerback, made four tackles and batted down a 2-point pass attempt.
Boulder City (1-1) has its first road game of the season at 7 p.m. Friday at winless Rancho. Last Friday, in the 58th edition of the state's oldest rivalry, Las Vegas pounded Rancho 60-7 for its 19th straight win in the series.