Selinger takes top spot in regional meet
November 4, 2015 - 4:29 pm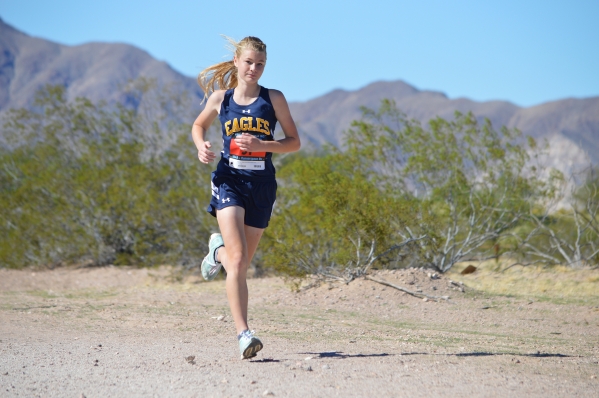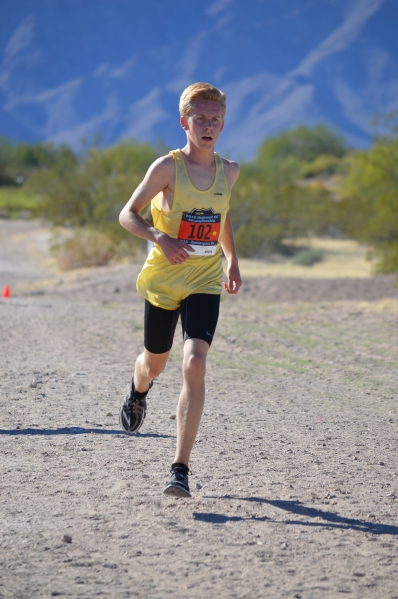 After getting a taste of the state meet a season ago with his girls program, which placed fourth at the event, coach Canaan Petersen stated several times throughout the regular season the importance of his girls running up to their full potential. Following the conclusion of Friday's Division I-A Southern regional meet, it's quite possible his message finally sunk in.
"I've been telling these girls all year that they have the capabilities of being one of the best teams in the state and I feel like it finally showed this past week," he said. "Top to bottom we ran a great race and we were rewarded for our efforts."
Claiming third overall with an team score of 100, the Lady Eagles were able to use their home-field advantage late in the race to hold off the Clark Chargers (108) for a top-three finish behind their core four of sophomores Sierra Selinger and Camille Torgeson, junior Nantke Bonsack and senior Emma Torgeson.
"Home-field advantage is key in any sport," Petersen said. "Setting up the course myself was very beneficial to our team's overall success, because of their familiarity with the course. We practiced that course multiple times, in terms of what routes to take, when to turn, where to step when you are hitting that soft sand. We knew that course coming in like the back of our hands, which was paramount into everyone's success."
Setting a personal best Friday with the regional victory, Selinger finished the course with a time of 21:22 to beat out last season's individual regional champion senior Ingrid Zarate of Del Sol, who finished the event with a time of 21:35.
"Sierra executed a strategy very well Friday and even when it appeared like she had made a mistake, it was one that ended up benefiting us in the long run overall," Petersen said. "Throughout the day she just ran that race to perfection. Not only did she post her best time, but she showed perseverance throughout the day and always found a way to get it done."
Behind Selinger, Emma Torgeson followed up a strong Southern division finals performance with an 11th-place finish with a time of 22:52, just a second under Faith Lutheran junior Emily Seigle, who took 10th overall. Bonsack would soon follow after with a time of 24:54 for a 23rd-place finish, while Camille Torgeson, despite placing 32nd with a time of 25:13, proved to be the Lady Eagles' most important runner.
While Selinger certainly stole the show with an individual region title, Camille Torgeson's time proved to be valuable with three Chargers finishing just a shade over a minute or under behind the sophomore to seal the Lady Eagles' top-three finish.
For the boys, an 11th-place finish may not have been what they had in mind coming into the season, but following the conclusion of Friday's race, Petersen claimed that he liked the overall outlook of the program moving forward.
"We certainly had high expectations for ourselves coming into the year, but overall as a core we're still young and growing," Petersen said. "Every one of our guys has made significant strides throughout the season and sooner than later, that will translate into higher finishes. The outlook toward the future is looking bright."
Bright as can be Friday afternoon, junior Tyler Campbell followed his Southern division finals first-place finish with a fourth-place regional finish, eight spots higher than last season. Finishing with a time of 18:03, Campbell overcame an early slow start to make the trip this weekend to Reno with the girls for his third individual trip.
"It felt good honestly to just go out there and run my race," Campbell said. "I started off slower than I'd like, which is sort of scary early on, but I know I can always count on myself to pull myself together and get to the top of the pack. I'm looking forward to this weekend's state meet where I can hopefully finish toward the pack again.
Following Campbell were senior Joren Selinger (44th, 20:04), junior Caleb Shamo (66th, 21:19), sophomore Dawson Goodfellow (75th, 21:50), and junior James Embro (84th, 22:50).
Both glowing with excitement Tuesday at practice for the opportunity to showcase their talents on a broader level, Campbell and Sierra Selligner said that they're not only excited from an individual standpoint to be competing this weekend at state, but for their teammates as well.
"Everyone has worked so hard to get to this point," Sierra Selinger said. "We've all put in a lot of hard work throughout the season and I'm excited to see where we stack up against the top team. (I'm) hopeful for a great finish."
Contact Robert Vendettoli at BCRsports@gmail.com.