Rushworth surpasses expectations at wrestling match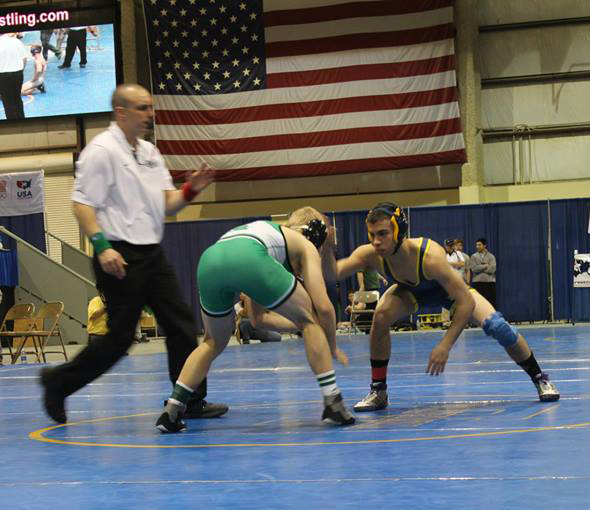 Boulder City High junior Tyler Rushworth was hoping just to place in the top three against what he thought was a competitive field in the USA Wrestling Nevada high school Greco-Roman freestyle and folkstyle wrestling championships. He never expected to win one event, let alone to sweep unbeaten through both.
"I only went into the tournaments thinking it was a great competition, that it would help me improve my technique and abilities for next wrestling season," Rushworth said. "I thought each the freestyle and the folkstyle events offered different things that I could learn. It was a great feeling to be able to win both events.
"The freestyle event was my biggest surprise because it was my first freestyle event and I wasn't expecting anything but to go out there and just wrestle. But on the second day, when I won the folkstyle, my mind went racing, thinking of all the other tournaments I now want to enter this summer to push myself to limits that I haven't reached before. It gives me a lot of confidence for next high school season."
Although he says he did learn a few moves from the events at the Riviera Hotel on March 7-8, Rushworth also was teaching his competition about his abilities, dominating both styles at 138 pounds.
"Tyler not only won, he pinned his way through both brackets in both styles," Boulder City wrestling coach Jim Cox said. "It was a great effort. He wrestled tough."
This past February, Rushworth placed fifth at the Nevada Interscholastic Activities Association Division I-A state tournament as the Eagles finished 10th as a team. He won his opening quarterfinal match at 138 pounds with a pin of Churchill County's Jack Swisher in 2:13. But he lost to Faith Lutheran's Owen Lawrie in the semifinal when he was pinned in 1:15. Lawrie went on to win the championship. Rushworth also placed third in the Southern Region tournament by winning his match 7-1 against Levi Gundacker of Pahrump Valley.
Other Boulder City wrestlers also placed in the event.
Adam Clary placed second in freestyle and second in folkstyle, and Jacob Kellly was third in Greco-Roman and third in freestyle. Devin Fox was fourth in freestyle and fifth in folkstyle. Rob Pavolowski was third in folkstyle, while Zayne Denningtion was seventh in folkstyle.
Contact Pedro F. Fonteboa at BCRsports@gmail.com.