Rushworth captures second-place title in state wrestling tourney
February 24, 2016 - 3:47 pm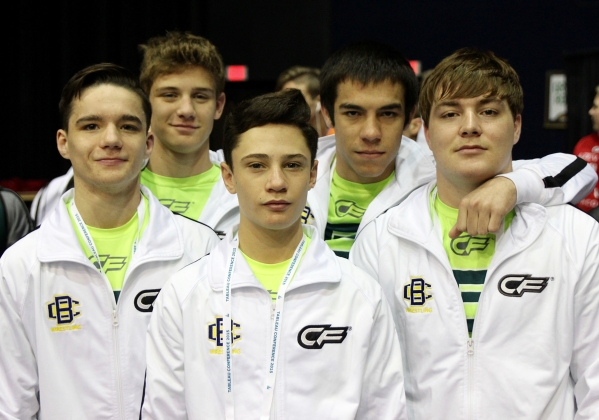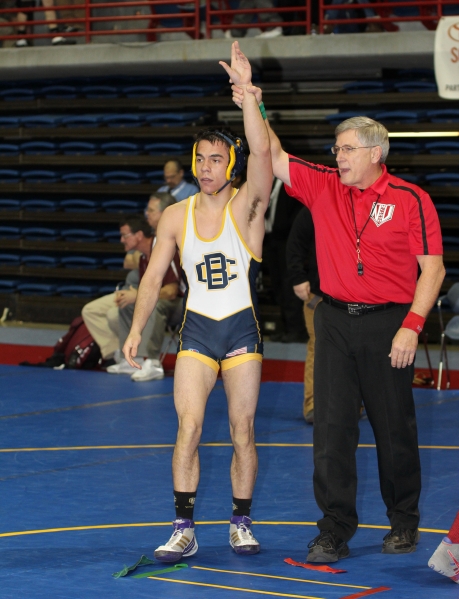 Senior 138-pound wrestler Tyler-James Rushworth came into this past weekend's state tournament wanting to conclude his senior season on a high note. One of the most passionate wrestlers you'll find on the Boulder City roster, Rushworth claimed he wasn't concern about where he finished up or where he placed as long as he knew he gave it his best effort one last time. Following Saturday's outcome, the senior can surely hang his head high.
Picking up a fall over Fernley wrestler John Hires-Caulk in the quarterfinals Saturday, Rushworth then picked up an 8-2 decision over Lowry's Nate Nelson in the semifinals to make it to the state championship match.
The lone state returner from last season for the Eagles, when he finished fourth, Rushworth capped his final season with the program on a high note.
Rushworth ended the day placing second, the Eagles' highest placing finalist, falling to Sean McCormick of Churchill County, who helped the Northern Nevada Greenwave win the overall team competition Saturday as well.
"I'm extremely proud of the way Tyler performed on Saturday, and I know he is too," said Boulder City assistant coach Allen Haines, a 2009 state champion in the 130-pound weight class. "He went out there and he laid it all on the line. He never backed down when faced with adversity. He never quit when it looked like things weren't going his way. I thought he went out there and displayed what Boulder City wrestling was all about, heart and determination."
Rushworth wasn't the lone Eagle to find his way to the podium Saturday, with junior Jimmy Brown and sophomore Garrett Leavitt finishing their state runs in third and fourth place, respectively.
"To have three kids find their way to the podium is a successful year," Haines said. "We saw a lot of great efforts out of all three of them Saturday."
Wrestling in the 126-pound weight class, Brown picked up a victory in the quarterfinals over Elko's David Burden before falling to eventual runner-up Tyler Nishi-Rivera of Spring Valley in the semifinals.
Making the most of his third-place constellation prize, Brown would go on to earn a fall against Pahrump Valley's Gino Gusman in 4:46.
"Jimmy had a great showing this past week," Haines added. "It was a little disappointing when he didn't make the final round, but he certainly made the most out of his third-place opportunity. That was big for him. This year is a learning experience; now he knows what it's like to compete here and no he knows what he can work on and get better at to achieve his goals next year."
Wrestling in the 106-weight class, Leavitt, in his first state tournament appearance, also learned key lessons he can take back with him this off-season in hopes of returning next year.
Picking up a fall over Lowry's Ridge Ricketts in the quarterfinals, Leavitt was defeated by Spring Creek's Josh Tripp by a 12-5 decision in the semifinals and then just narrowly by Churchill County's Terry White in the third-place matchup by decision 7-5.
"Garrett came real close to closing this one out with a third-place finish," Haines said. "A few things go his way and we'd have three top three finishers coming out of state, but that's the game of wrestling and the game of life. Again, it's about going back to the drawing board and learning from your mistakes. Garrett's a dedicated kid who I know will be back here at some point throughout the next two seasons to right his wrongs."
Sophomore 113-pound wrestler Zane Dennington and junior 195-pound wrestler Devin Fox also competed at state with their teammates.
Dennington won his quarterfinals matchup with Lowry's Matthew Souza by decision 8-3, before bowing out against Elko's Kevin Villegas in the semifinals. Fox fell in the quarterfinals to Spring Creek's Sheldon Wilkinson.
"To have five guys make it to the state tournament is certainly an accomplishment," Haines concluded. "We only graduate one from this pack, with the other four I know hungry to return back to this point. The future looks really bright for our program. It may be the end of this season, but it's also the start of our next."
Contact Robert Vendettoli at BCRsports@gmail.com.