Roe named top student-athlete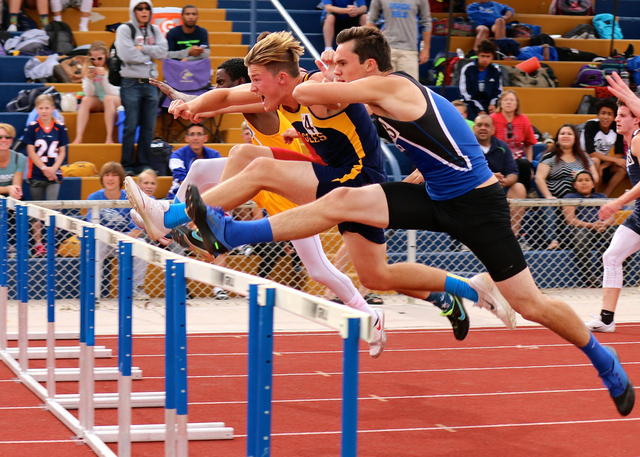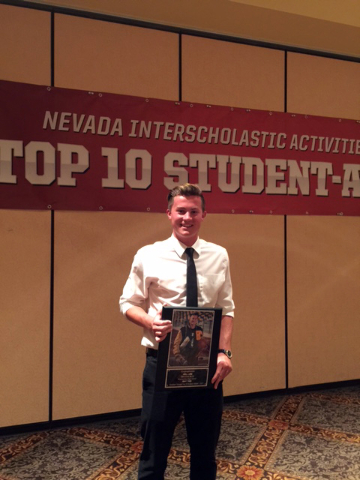 Brooks Roe ended his high school career on a high note. Not only did he set a new personal record in hurdles during his last career track meet, but he also was recognized as a Nevada Interscholastic Activities Association Top Ten Student-Athlete of the Year on April 27 during a banquet attended by other honorees and his family.
Roe was the only student recipient from Boulder City High School. As part of the recognition, Roe received a $500 scholarship for a university of his choosing courtesy of the Southern Nevada Toyota Dealers.
"It was pretty awesome because it was one of the bigger scholarships that I filled out, and the one I was hoping to get," Roe said. "It's a scholarship, but also a like a privilege to get it, and so I was pretty excited when I first got it."
"This is an outstanding event which recognizes student-athletes who exemplify what high school activities and athletics are all about," Nevada Interscholastic Activities Association Assistabt Director Donnie Nelson said.
According to the association's website, the Top Ten Student-Athlete of the Year awards go to "those student-athletes who exemplify total school and community involvement … to student-athletes who participated in multiple sports, other school and student government activities, and community service projects while at the same time maintained a high academic status within their school."
"I felt blessed for the fact that he received that," said his mother, Cherise Hinman, adding the honor was the perfect ending to his senior year, especially after a rough start with injuries during the football season.
As volleyball coach at Boulder City High School, Hinman has witnessed her athletes receiving this award and attended the banquet, hosted by Lifetouch National School Studios, multiple times in their honor.
But this time, it was different. Her role at the banquet was far more important than being a coach, she said.
Roe's recognition didn't end there. During the track banquet May 19. Roe was named the athlete of the season, an honor he also received for basketball. He also received a scholarship from his preschool, Oaklane Academy, and the BCHS Principal's Award, which is awarded to students who represents Boulder City High School well.
Hinman said she is proud of what her son has accomplished throughout his educational career, and said the NIAA award is as if everything has paid off and was coming together.
"It kind of accumulates what a student-athlete has done throughout their high school career," Hinman said. "Not just on the athletic field or court or track, but also what they've done academically and in the community and for volunteerism. It kind of just accumulates everything. It's just a really nice honor."
Up next for Roe is college. He has chosen to attend Dixie State College in St. George, Utah, where he will study mass communications.
Although he has no plans to pursue sports in college, Roe said he has learned valuable life lessons while from athletics at Boulder City High.
"Sports taught me to not just focus on work, but also having fun while doing it," he said. "I've learned to overcome certain things, and so I think I'm ready for that when I go off to college. Just to keep pushing and have fun while I'm doing it, and not really look back."
"Athletics, I think, are a grander stage for what he'll have to face in life, as far as competition, excelling in whatever field he chooses to go into, as far as teamwork and preparation, setting goals," Hinman said. "It all kind of corresponds."
Heading into college, Roe said he has the mindset of not being afraid, pushing through everything, being himself and fun while he can.
"I'm happy for him to get out, explore, meet new people, take on new adventures and just find out what he wants to be," Hinman said.
At the banquet, the association named former assistant wrestling coach Kevin Ruth as Mentor Coach of the Year.
Contact Rochelle Richards at BCRsports@gmail.com.