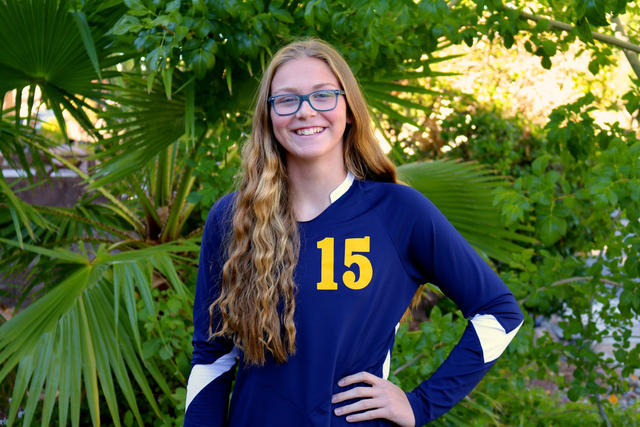 Boulder City middle hitter Maggie Roe has been selected among the best freshman volleyball players in the nation by prepvolleyball.com.
The Internet website annually selects the FROSH 59 elite team, a list of what the site considers to be the nation's most outstanding varsity-playing freshmen in the nation during the 2014 fall season.
An additional 200 freshmen are listed among Highest Honorable Mention, Special Mention and Honorable Mention categories.
"It feels unreal and exciting at the same time," Roe said.
Roe, a 6-foot, 1-inch middle blocker, is the daughter of Boulder City volleyball coach Cherise Hinman, who will be coaching her 20th season at the school next fall, and Boulder City girls track coach Steve Roe.
"This is a really huge accolade. I'd be thrilled for any of my players, but I am especially proud that my daughter made the list," Hinman said.
The website wrote about Roe as follows: "Maggie was basically unstoppable at the net last fall, as she finished the season with a kill percent of 63.6 with 154 kills, and a hitting percent of .496. Roe was also credited with 80 blocks.
"Her dominating net play helped lead the Lady Eagles to the Sunrise League championship and a third-place finish in Division I-A Southern Region. The Lady Eagles had an overall record of 24-9."
Roe was the only freshman to be selected All-Sunrise League first-team and Division I-A All-Southern Region second-team.
Camp News
In other volleyball news, registration for the annual Boulder City All American Volleyball Team Camp has started. All deposits for fees are due by March 20. For more information, visit www.bouldercityvolleyball.com or see the school's banker.
The camp features several former college players and coaches. Camp dates this summer are Aug. 10-12. Open tryouts for varsity, junior varsity and B squad begin Aug. 17-21.
There are only 24 spots available for the camp, which sold out quickly last summer. The spots will be filled on a first-come, first-served basis.
Boys basketball
Senior guard Tyler Newby was selected All-Sunrise League first-team and Division I-A All-Southern Region second-team. He led the Eagles to a 10-15 record this past season and was the team's leading scorer, averaging 14.7 points per game.
Girls basketball
Junior forward Megan Morton, who was the Lady Eagles leading scorer with an average of 17.2 points per game, was selected All-Southern Region first-team and All-Sunrise League first-team. Morton was co-MVP of the Sunrise League. She also averaged eight rebounds and two assists per game.
Senior guards Alyssa Ybarra and Katlyn Daly each were chosen All-Southern Region second-team and All-Sunrise League first-team.
The trio led the Lady Eagles to an 18-10 overall record and a berth in the playoffs. The Lady Eagles also tied for first place with Chaparral with a 12-2 Sunrise League record.