Rocyski leads Team Boulder at invitational
December 17, 2014 - 2:09 pm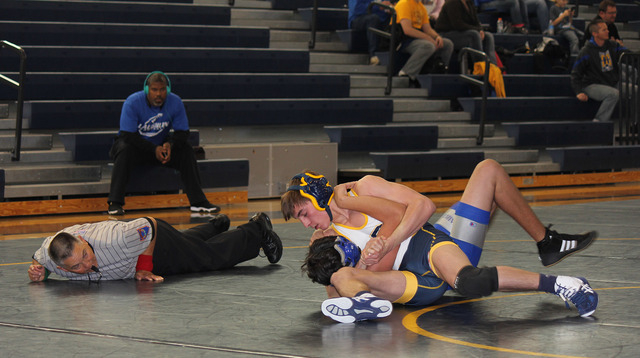 Heavyweight wrestler Jack Rocyski was chosen as Team Boulder's wrestler of the week after posting an 11-1 record with eight pins. He also finished in third place individually Saturday as Team Boulder finished 15th among 48 teams in the Jimmy Hamada Invitational in Carlsbad, Calif.
"The invitational was regarded as the toughest in the San Diego high school section this season. Jack had a great week for us. He was 11-1 against some great competition and did real well to finish third in Carlsbad," Team Boulder coach Jim Cox said.
"Everyone got to wrestle in five matches in there. Individually, everyone is improving each week and heading in the right direction. These are great, coachable young men."
At the Hamada Invitational, Collin Fox (126 pounds) placed sixth and Patrick Garvin placed eighth.
There also were some good efforts from DJ Reese (106), Brady Branscum (113) and Jimmy Brown (120), all of whom had a 3-2 record and were one win shy of placing in the top eight.
Tyler Rushworth (138), Alex Pappageorge (170), Nelson Van Diest (182) and Sam Doane were all 2-2.
Jacob Jurgschat (195) was 0-2 but later won the drop down tournament at his weight class, while Bryan Foster (145) was 0-2 and second in his the drop down tournament.
In the Boulder City quad-dual Dec. 10, Boulder City defeated Bonanza 57-19; Desert Oasis 71-10; and Rancho 63-12.
Against Bonanza, Mike Morelli (126) won a 7-5 decision, while Fox, Foster and Rocyski won by pinning their opponents. Six Boulder City wrestlers won by forfeit.
Against Desert Oasis, Branscum, Brown, Fox, Rushworth, Foster, Dylan Dennington (160), Pappageorge, Dustin Edlund, Van Diest and Rocyski all won by pins.
Against Rancho, Reese won an 8-4, while Branscum, Brown, Fox, Rushworth, Foster, Garvin, Pappageorge, Van Diest and Rocyski all won by pins.
Edlund won a 9-8 decision and Doane won a 7-3 decision.