Returning players improve chances on gridiron
August 27, 2014 - 2:39 pm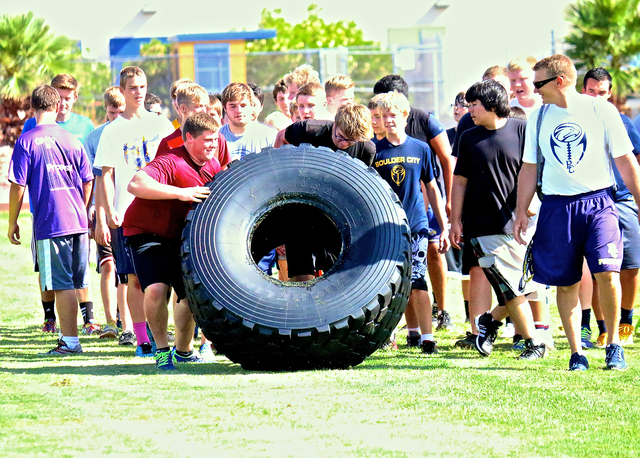 The Boulder City football team begins its quest for their third consecutive playoff appearance when its season begins Friday night at home against Clark.
Kickoff is at 7 p.m. Tickets are $5 for adults and $3 for children. Family season passes are available at the gate.
The Eagles, in their seventh season under head coach Alex Kazel, were 4-5 during the regular season last fall and 2-3 in the Sunrise League. They reached the playoffs as the No. 4 seed from their league but lost in the opening round of the playoffs to eventual state champion Faith Lutheran.
"We will compete on every down," Kazel said. "We will have a physical, disciplined and unselfish approach to the game of football."
The Eagles have 22 lettermen returning, led by senior quarterback Trenton Carmell and fullback/tight end Brooks Roe. The lines are strong on both sides with two-way players like seniors Jake Jurgschat, Jack Rozycki and Andrew Sands, and junior Jacob Gneiting.
With the addition of Roe as a ball carrier, Carmell also can look to hand off to experienced runners such as senior Nelson Van Diest and junior Logan Branscum. Junior wide receiver Zach Murphy will be one of Carmell's top targets. A year ago, Roe led the team in receiving yards and in defensive sacks.
Clark made the playoffs for the first time since 2002 last season. Clark had an identical record as Boulder City last season, also going 4-5 in the regular season, 2-3 in the Sunset League, and losing its first playoff game. But Clark was a No. 3 seed in the playoffs.
Clark has 16 returning lettermen, runs a spread offense, led by quarterback Nick Kinnard, receiver Marquice Stuart, Milan Dixon and lineman Jon Aldana. Dixon led the team with 726 yards rushing and 11 touchdowns and Stuart had 244 receiving yards and three touchdowns.
"The defense has to be ready no matter who we play," said Roe, who also will play linebacker this season. "We are excited about our season, especially the seniors. We want to get out there and play already."
Clark's 3-3-5 defense is led by lineman Jobany Alanis, linebackers Robert Ahearn and Tyrek Wells, and defensive back Clifton Smith.
The Eagles begin their season with three non-Sunrise League games.
After Clark, they play Pahrump Valley at home Sept. 5 before traveling to Rancho Sept. 12.
The Eagles begin their Sunrise League schedule on the road Sept. 19 at Del Sol, the new school dropping from Division I to I-A. The Eagles are then home to play formidable Desert Pines Sept. 27.
To clinch the playoffs last season, the Eagles needed late-season victories over Sunrise Mountain and Chaparral. Wins against those two schools will also go a long way to deciding if the Eagles will reach the playoffs in 2014.
Boulder City plays at Sunrise Mountain Oct. 2 and has its homecoming game against Chaparral Oct. 10. They end the season with former Class 3A opponents and longtime rivals Moapa Valley and Virgin Valley. The Eagles play Moapa Valley in Overton Oct. 17 before ending the regular season with a home game against Virgin Valley.
The first round of the playoffs is scheduled for Oct. 30.