Reese earns baseball coach of year honor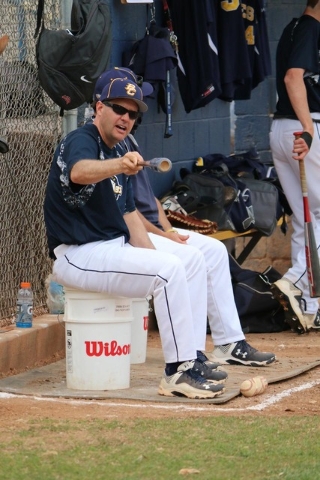 Boulder City High School baseball coach Bobby Reese wanted to do more than just make it to the state tournament this season; he wanted to win it all. Instilling a winning culture and a never-quit mentality, Reese's ball club was able to do just that, giving the program its first Division I-A state title since 2006.
"I honestly can't be more proud of the way our ball club played this season," Reese said. "To win seven playoff games in a row against the top five programs in the state, winning the way we did, trailing late in three of the games, an 11-inning game in another, I could not be more proud.
"Every player had a moment where they stepped up and did something amazing. It was just amazing and something I will never forget."
For his efforts this past season, Reese and his staff were recognized as the top coaching staff in the Division I-A ranks by their coaching peers.
The fourth-year coach said being honored as the Southern Region coach of the year was a team job that turned this constant winner into a perennial power.
"I'm very thankful to those who voted for me to win this award, but I'm more thankful to my entire coaching staff," Reese said. "They're the ones that made it a possibility. Alex Moore has been my assistant from the first day I took the job, Bill Strachan came back this year out of retirement to work with our pitchers, and Tim O'Neill does all the little things from stats to repairs. Chris Morelli is also there for us, who puts in so much time for three different sports at Boulder City High School and Johnny Nelson, our junior varsity coach, has played a major role in building our program.
"This award, the state championship and the relationships built with the players and coaches, I could not be anymore grateful. We're truly blessed."
Above turning the Eagles into champions, Reese prides himself on the culture his coaching staff has built within the program, hoping to turn boys in men.
"I'm very proud of how they all played, but also on how they represented themselves as young adults coming together for one goal," Reese said. "Self-sacrifice was key in our success, as the individual goals became less and less important. We may not have been the most talented team, but we were the best team. They played for one another; that's what we pride ourselves on."
A players' coach as well, senior starting pitcher Steve Wagner raved about his experience playing in the Eagles' program and under Reese the past two seasons, following a two-year stint with Foothill High School in Henderson.
"Boulder City gave me a chance and they made me a great baseball player," Wagner said. "I never really got the opportunity at Foothill, but now I'm a state champion. It's an awesome feeling and it's relieving to know that I was a part of this team. I have made lifetime friends with my teammates and coaches. We are all one big family. Boulder City has a special place in my heart and I will never forget anyone."
Concluding the regular season with a 28-7 regular season record and a 14-0 league sweep, Reese will now be tasked with taking the Eagles to the next step, with a repeat as state champions potentially in sight with Division I-A powers Faith Lutheran, Sierra Vista and Spring Valley now moving back into the Division I ranks. Hungry for constant improvement and success, the soon-to-be fifth-year coach wouldn't want it any other way.
Contact Robert Vendettoli at BCRsports@gmail.com.