Rebuilding Eagles take to gridiron Friday
August 29, 2013 - 1:02 am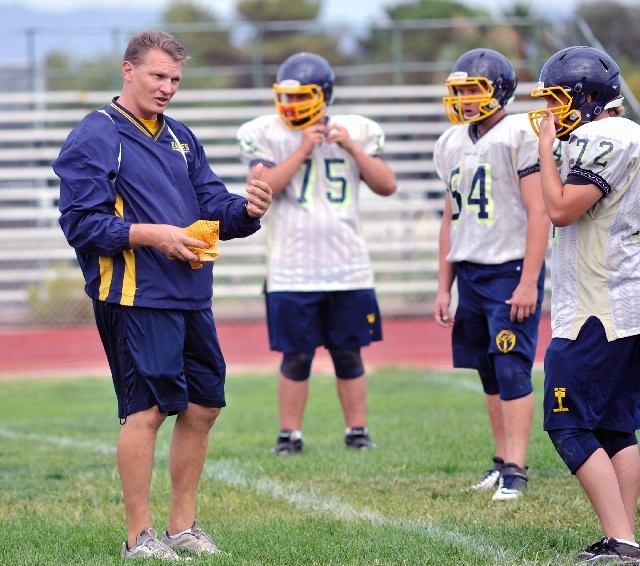 A varsity football roster with only six seniors and 25 athletes could be cause for concern. But Boulder City head coach Alex Kazel sees an opportunity for building.
"It was pretty much that way a few years ago," he said. "And then those players grew up and worked themselves in and the team became very competitive and then finally became a playoff team."
Those former young Eagles built their own tradition. Those Eagles recorded a 9-2 record overall, 4-1 in the Sunrise League, and reached the state 1-A quarterfinals where they lost to Cheyenne, 30-23, on Nov. 2.
It was the Eagles first playoff berth since 2009.
"The 18 juniors and one sophomore on this team will not have as much time to work themselves in, they will need to adapt immediately and make plays," said Kazel, who's entering his sixth season as head coach. "We are a young team and I think this team will find itself as soon as the 18 juniors find themselves. We have the ability to compete with every team on our schedule. I am confident we will make the playoffs."
The new season begins at 7 p.m. Friday at Mojave.
The Rattlers (6-5) lost to Moapa Valley in the state quarterfinals last year. Mojave is ranked among the region's top three teams this season according to region coaches, Kazel said.
"But just because they are considered to be one of the better teams does not mean they can't be beaten," Kazel said. "I know we will show up and be ready to play our best game. It's a game we can win if we play our game and limit opening-night mistakes."
Mojave returns quarterback Zach Arave and running back Ty Flanagan, both juniors who made second-team, all-state last year. The defense should be led by second-team, all-state performer Lorenzo Guerro, a senior lineman.
The Eagles eked out a 16-13 home win against Mojave to open the 2012 season.
"I know we are a different team, but we beat them last season and they know we can beat them," said senior Xavier Steel, who will be much of the Eagles offense at running back. "It gets in their head. In the back of their head they are thinking about us."
The Eagles return three of five starters on the offensive line. Steel, who finished with second-team, all-region honors last season after running for 1,067 yards and nine touchdowns, will run behind three seniors: center Jackson Dunagan, tackle Dillon Prach and tackle Nick Bennett. Prach received second-team, all-league honors on defense in 2012.
The quarterback position will alternate between senior Thomas Prach and junior Trenton Carmell. Senior Sam Woodbury, who rushed for nearly 300 yards and six touchdowns last season, will play wing receiver and cornerback.
All six seniors will play on both sides of the ball, as will most juniors.
"We have a small roster so we all have to play two or more positions," Steel said. "We have to play our game so that we limit mistakes and limit our time on defense as much as possible. But we should have a good year."
Steel will play safety, while Dunagan, Dillon Prach and Bennett play the defensive line.
The Boulder City football team enjoyed one of its best seasons in years in 2012, despite joining a new league and playing some larger schools.
If the Eagles are to repeat 2012's success, they must handle the 2013 schedule, which has five of its nine games on the road.
Like last season, the Eagles will play their first four games against 1-A opponents from the Sunset League, teams they could meet in the first round of the state playoffs. Last season the Eagles were 4-0 against the Sunset League in the regular season, and 1-1 in the state playoffs.
Boulder City will next travel to Western on Sept. 7. The Warriors finished last season 1-8, the only win coming by forfeit. Western is the only team on this season's schedule Boulder City didn't play last year.
Boulder City fans will get their first look at the Eagles at home on a Thursday night game, Sept. 12, against Pahrump Valley. The Sunrise League games begin Sept. 27 at home against Desert Pines.
Returning to the playoffs won't be easy.
Boulder City graduated a lot of talent, including nine key seniors. All-state, first-team running back D.J. Koopman graduated, as did second-team, all-stater tight end Michael Kelso.
Also graduated are Christian Nilsen, who was an offensive and defensive lineman, as well as second-team, all-region as a kicker; second-team, all-league wing back and safety Billy Viera; and second-team, all-league corner back Corbett Fleming.
Longtime quarterback Joe Miller also graduated.
"It's a new season and time for new people to step up," Kazel said.
Despite the losses, NevadaPreps.com, which is operated by the owners of the Boulder City Review, are predicting a return to the playoffs.
"The Eagles reached the playoffs last season for the first time since 2009, advancing to the I-A state quarterfinals," the website said. "A second straight postseason appearance is probable despite the personnel losses."
The top four teams from each league make the playoffs. The Sunrise League consists of the Eagles, Moapa Valley, Virgin Valley, Desert Pines, Chaparral and Sunrise Mountain.