Pressure builds for Eagles football team
October 8, 2014 - 12:32 pm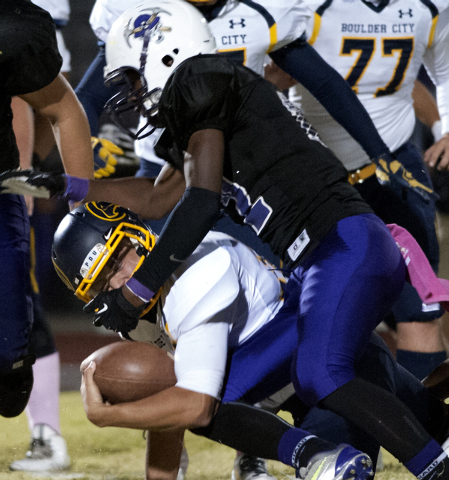 It is more than a football contest, and much more than a crucial Sunrise League game. It is the annual homecoming football game against Chaparral at 7 p.m. Friday.
It is a must-win.
"We have to win this game for all the right reasons — because it is a league game and we need the win for the playoff seeding, but because of what it means to everyone," senior quarterback Trenton Carmell said. "It is our senior year homecoming game and everyone will remember what happened 20 years from now when we think back.
"There is no question we must win this game."
For the Eagles, a win could mean a share of first place in the league if they follow it up next week with a victory against Moapa Valley.
If Boulder City can defeat Moapa Valley by more than 10 points (and win all of its remaining games), it would win a three-team tiebreaker with Moapa Valley and Desert Pines and be the No. 1 seed when the playoffs begin.
But first, Chaparral.
"The pressure is on us to win and protect the homecoming tradition on our home field," senior safety Justin Rockenfeller said. "Coach doesn't have to say a word to fire us up. It's already there. Everyone is ready to play."
Boulder City improved to 4-2 overall and 2-1 in the Sunrise League with a thrilling 49-48 overtime victory Oct. 2 at Sunrise Mountain.
After the Miners scored in overtime to take a 48-41 lead, the Eagles took the possession of the ball and made it 48-47 when Carmell scored on a 1-yard touchdown run.
Coach Alex Kazel opted against taking the extra-point kick to tie and send the game to a second overtime. Instead, he told his quarterback and offensive line to go for two.
The risk paid off. Carmell scored the winning 2-point conversion for the victory. Carmell was voted as the game's outstanding player on the cable television broadcast of "Thursday Night Lights" on KVMY-TV, Channel 21, aka MYLVTV.
Carmell completed 8 of 12 passes for 164 yards and a touchdown. He also had three 1-yard touchdown runs, including one in overtime. His 1-yard sneak off left tackle 1:52 remaining sent the game into overtime.
Carmell also contributed on defense, intercepting two passes as a cornerback.
Junior running back Logan Branscum rushed 10 times for 93 yards, caught three passes for 80 yards and scored two touchdowns.
Boulder City defeated Chaparral a year ago and eventually edged the Cowboys for the final playoff spot.
This year, Chaparral is 3-3 overall and tied with Boulder City with its 2-1 league record.
The Cowboys are coming off a dominating 48-0 win against Rancho. The Boulder City defense will have to stop quarterback Jerome Williamson, who completed all six of his passes for 139 yards, including a 74-yard pass play to Seitu Wyche late in the third quarter against Rancho.
Williamson also rushed for 60 yards, scoring on a 29-yard run. Casey Acosta rushed for 82 yards on four carries with two touchdowns.
"Chaparral is a good team and the following week we have the best team in our league (Moapa Valley), so we can't waste time," senior linebacker Jacob Jurgschat said. "We need this win because it is important to the playoffs, but it is also homecoming and it means a lot to us, the cheerleaders and the student body.
"We want to play to our best level. There's no room for mistakes."