Prach, Roe earn spots on all-state football team
January 2, 2014 - 5:16 am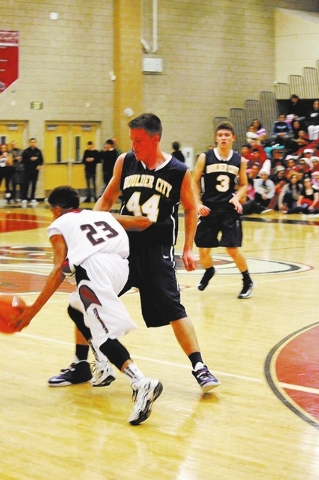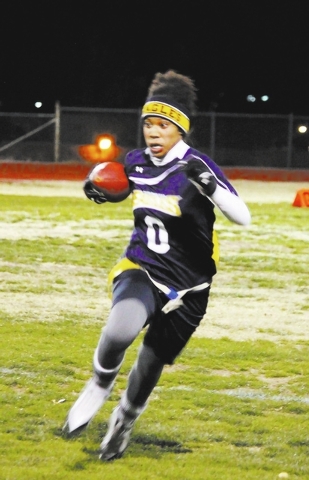 Boulder City senior linebacker Dillon Prach and junior defensive end Brooks Roe have been selected to the Division I­A football's all­-state second ­team. Both also were chosen All-­Southern Region first ­team and All­-Sunrise League first­ team.
"Obviously, I would have liked to be on the all-­state first team because that's what I was shooting for. But I am thankful for the recognition of being selected to the second team," Roe said. "I was happy to make first team for the Southern Region and for the league."
Prach also said he was happy.
"It is an honor to be chosen to the all­-state football team even if it is to the second team," Prach said. "It's still amazing to have all the coaches statewide know who you are and to vote for you. Making the all­-state team has always been a dream of mine, and so I am extremely happy."
They helped to lead Boulder City to a 4-­5 regular season record and a berth in the playoffs for the second straight year. The Eagles were eliminated by Faith Lutheran in the first round of the Southern Region playoffs.
Selected to the All-­Southern Region first ­team were Roe, as a defensive end, and Prach, as a linebacker. Prach also was All­Southern Region second ­team choice as an offensive guard.
Being selected to the All­-Sunrise League first­ team were Roe, as a defensive end, and Prach as a linebacker. Roe also was named as a second ­team running back, along with junior Xavier Steel. Selected to the first­ team offense were junior tight end Jacob Jurgschat and offensive tackle Andrew Sands. Named to the second ­team were Jurgschat, as a linebacker; Roe, as a punter; senior cornerback Sam Woodbury; and senior safety Thomas Prach.
Girls Flag Football
The undefeated Lady Eagles flag football team, led by junior safety Kinsey Smyth and junior quarterback Jeanne Carmell, returns from its holiday break to play a Sunrise League game at home at 5 p.m. Monday against Tech. Boulder City is 7-­0 overall and 5-­0 in the Southeast League. Smyth had 10 interceptions in seven games.
Boys Basketball
Marcus Walker led Boulder City with 10 points, but the Eagles could not overcome the larger players for West Valley (Calif.) in a 55-­29 loss in the opening round of the Paloma Valley Winter Shootout Dec. 26 in Menifee, Calif. Senior forward Xavier Steel scored 8 points for the Eagles, who trailed 29-­17 at halftime.
The Eagles had two other losses in the tournament to fall to 3-­7.
On Friday, the Eagles lost 57­-33 to Elsinore (Calif.) after trailing 39-­15 at halftime. Steel scored 7 points.
In Saturday's loss, guard Tyler Newby scored 18 points, but the Eagles lost 59­-40 to Valley View (Calif.).
The Eagles begin their Sunrise League schedule on the road Monday playing Moapa Valley in Overton. The game begins at 7:30 p.m.
Bowling
After two weeks off, the boys and girls bowling teams return to the lanes at 3:30 p.m. Monday with a match against Desert Pines at Boulder Bowl.
Wrestling
Team Boulder ends the holiday break and returns to the mat in the Asics So­Cal Challenge Friday and Saturday at Santa Ana (Calif.). The Eagles are 9-­1 in dual meets and have fared well in three tournaments this season.