Potter earns player of year honors
November 18, 2015 - 3:24 pm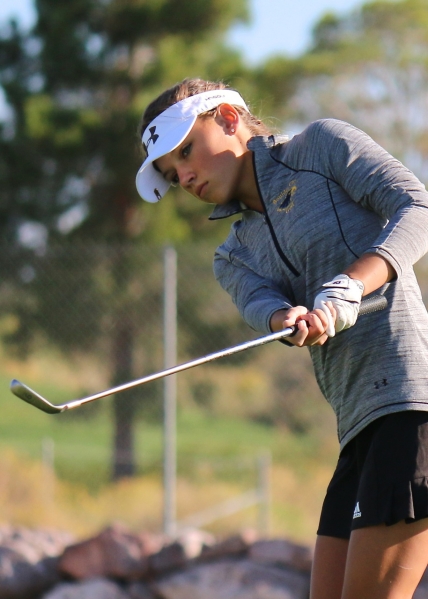 The Boulder City golf program was heavily represented during the Division I-A award announcements last week, with all five of the Lady Eagles golfers receiving their share of All-League honors and sophomore Lani Potter named the Division I-A Southern Region Player of the Year.
"I am very excited that all of the girls earned at least second-team all-league honors," coach Andy Schaper said. "They put in a great deal of time and dedication throughout the season. Always great to see hard work pay off. Now that the foundation is there, it is time to continue to build and work to better their games. I am looking forward to seeing their development through the off-season."
Potter also was named a member of the All-Southern Region first team, representing the top six golfers in Southern Nevada.
"I'm very excited to see Lani be recognized as the golfer of the year," Schaper added. There are some great golfers in the Division I-A, so it really speaks volumes to Lani's overall golf game. Again, I am proud of how she has worked and continues to improve each day. The very next day after the state tournament, Lani was at the practice range getting ready for her next tournament. She definitely has what it takes to play at the next level."
Earning five first-place finishes during the season for the Lady Eagles, Potter guided Boulder City throughout the Division I-A Sunrise conference and into its first state tournament appearance since 2010. Also claiming a top-three finish in the Lady Eagles' meet with Division I-A opponents Coronado and Green Valley, Potter capped off her season with a second-place finish in the Division I-A state meet with an overall score of 149.
Along with her All-Southern Region honors, Potter was named to the All-Sunrise League first team.
Joining Potter in the All-Southern Region honors discussion was freshman Madisan Walker, who was one of six golfers to make the second team.
"Madisan should be very proud of herself for earning second-team All-Southern team honors," Schaper said. "She played well this year and is only going to improve as we start next year. While she played well this past year, Madisan has the ability to play better. I am very excited to see what is next to come for her."
Giving the Lady Eagles a reliable second option behind Potter, Walker gave Boulder City three top-five finishes (second and two fourths), as well as a pair of sixth-place efforts. Concluding the Division I-A Southern Region tournament with a 13th-place finish with a score of 104, Walker then showed great effort at the state meet with a 17th-place finish, 10th amongst Southern Nevada golfers, with an overall score of 205. For her efforts, Walker was also named a member of the All-Sunrise League first team.
Earning All-League honors as well for the Lady Eagles were juniors Lauryn Norris and Holly Piper, along with freshman Ryann Reese.
Norris, a first-team selection, not only provided the youthful Lady Eagles with valued leadership as the team's only upperclassman, but reliable scores as well. Posting three top-five finishes (a fourth and two fifths), as well as a ninth-place finish during the regular season, Norris capped off her season with a 36th-place finish at the Division I-A state meet with an overall score of 232, after placing 14th at regionals with a score of 112.
Both newcomers Reese and Piper would earn second-team All-Sunrise League honors, giving the Lady Eagles a solid five-player rotation. Steadily improving each week to make the nine-hole cut, both improved tremendously toward the conclusion of the season, finishing 42nd and 45th overall at the state meet.
"Overall, I am very pleased with the girls' games and development over the last year," Schaper concluded. "I am very excited for the future of Boulder City golf, but we have a lot of work to do. The girls have a great opportunity to be contenders for state in the upcoming years. It is up to them to make it happen."
— Contact Robert Vendettoli at BCRsports@gmail.com.