Poll gives Lady Eagles well-earned recognition after two more victories
February 3, 2016 - 4:04 pm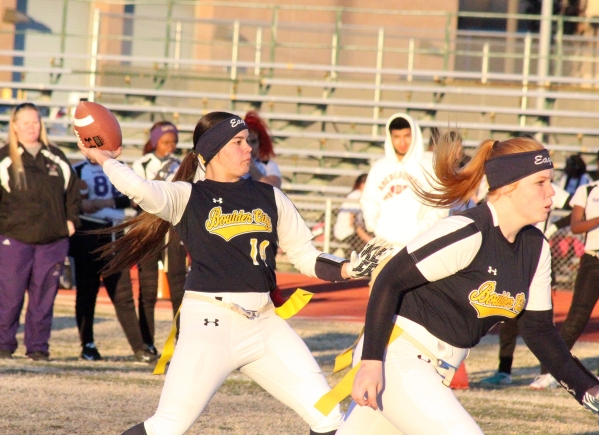 Extending their regular season record to a perfect 15-0 with victories this past week over Sunrise Mountain and Desert Pines, the Lady Eagles finally achieved the near impossible: crack the No. 1 spot on the Southern Nevada Flag Football Coaches Association's poll.
"It's great the coaches throughout the valley recognize this group of athletes," head coach Chris Morelli said. "We will still hear that we aren't playing Division I teams, but I think this group has proved over the last two years and this year that it doesn't matter what league were in. This is a special group of athletes."
The two years in counting Morelli is referring to is the Lady Eagles' combined 57-1 record since the sport was introduced to Southern Nevada, with their only loss coming to Green Valley during the 2013-2014 state semifinal.
"I don't think people understand that this group were sophomores when they lost to Green Valley in the semifinals two years ago," Morelli added. "They haven't hid from that loss, they've learned from it, matured and made the commitment to be the best they can be."
Boulder City continued to display that commitment this past week, handing the Miners and Jaguars 33-6 loss each.
Against Sunrise Mountain on Jan. 28, senior dual-threat quarterback Jeanne Carmell shined the brightest she has all season, completing 22 of her 32 pass attempts for 287 yards and five touchdowns, while rushing for 88 yards on six attempts.
Catching a pair of touchdown passes on the day, senior receiver Oshanna Remy amazed for 86 yards on five catches, while senior Tarah Cox joined juniors Kenadee Bailey and Aimee Finn with touchdown receptions.
Cox, caught a game-high seven passes from Carmell for 87 yards, while Bailey caught five passes for 45 yards and Finn hauled in a pair of passes for 35 yards.
Focusing her attention to defensive detail, senior linebacker Paige Buettner led all players with nine tackles, while Bailey tallied six tackles and a key first-quarter interception that set up the Lady Eagles' second scoring drive.
Bailey also was key Monday against the Jaguars defensively, garnering a game-high 15 tackles and a sack for the Lady Eagles, while Buettner tallied two sacks and Remy tallied one.
Carmell and Cox both brought down interceptions against Desert Pines.
Offensively, the Lady Eagles' always-potent attack was perfected by Carmell, who continues to close out her storied three-year career with Boulder City in style.
Carving up the Jaguars' defense for 94 yards and a score on the ground, the senior playmaker completed just under 70 percent of her passes, completing 18-of-26 for 254 passing yards and four scores.
Remy again would come up big for the Lady Eagles with a game-high six catches for 75 yards and a score, while Bailey averaged just over 30 yards per catch as a big-play threat, with 92 yards and a touchdown on three catches.
Senior wide receivers Makenzy Waldo (one catch, 24 yards) and Samantha Lawrence (one catch, four yards) also hauled in touchdown receptions.
Doing their best to hold off Division I programs Centennial and Foothill, which rank No. 2 and No. 3 in the coaches poll, respectively, the Lady Eagles will close out the regular season with a pair of tough matchups against current Division I-A playoff contenders Virgin Valley (15-3) and Del Sol (12-4).
Boulder City will travel to Mesquite on Tuesday to take on the Bulldogs, while they'll conclude the regular season at home Feb. 11 against the Dragons for senior night.
Buettner, Carmell, Cox, Emma Jeppsen, Lawrence, Brook Reed, Remy, Evelin Robinson, Waldo and Rachel Whitman will all be highlighted during the event scheduled for 4:30 p.m.
Contact Robert Vendettoli at BCRsports@gmail.com.
^
Upcoming Games
Tuesday, at Virgin Valley, 3:30 p.m., junior varsity; 4:30 p.m., varsity