Personal records highlight state meet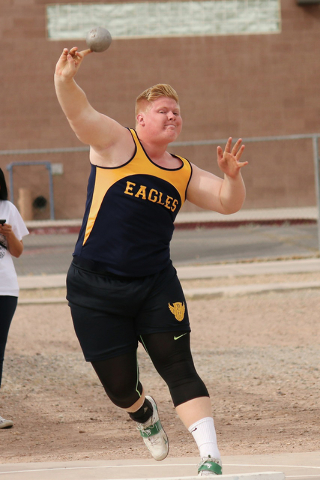 As the school year comes to a close, so does the season for sports. For Boulder City's track and field teams, their season ended Saturday with the 2015 Nevada Interscholastic Activities Association Track and Field State Championships at Del Sol High School.
The boys team finished sixth in Division I-A with 42 points, and the girls finished 17th with 10 points.
Faith Lutheran took home the 2015 NIAA Division I-A Track and Field State Champion titles for the girls and boys teams.
At the meet, both Boulder City teams were dominated by seniors trying to break their personal records for the last time.
Senior Brooks Roe finished his high school track and field career by earning the bronze for the 300-meter hurdles, with a personal record of 40.47. He also placed fifth for the 110-meter hurdles with a time of 15.91.
Brenden Cowley, a senior, achieved bronze for shot put, throwing his personal best 49-10. He also placed fifth in discus, throwing a distance of 136-07.
Junior Sam Gomez earned gold for discus with a distance of 162-02, and placed seventh in shot put, throwing 44-09.
Andrew Sands, a senior, threw a distance of 45-11 in shot put, earning him fifth place. He took home bronze in discus, with a distance of 149-05.
For the girls, freshman Sierra Selinger placed seventh in the 3200-meter run, with a time of 12:38.76. She was also part of the 4×800 relay that placed seventh, running 10:31.71. Her teammates were Lauren Mullins, Emma Jeppsen and Evelin Robinson.
Seniors Sariah Gneiting and Katlyn Daly placed seventh and eighth in shot put, with distances of 32-05.75 and 31-02, respectively.
Senior Alexis Fenyves placed sixth in triple jump, with 33-07.50.
Even though Boulder City didn't walk away with a state championship, it was still a successful year for the Eagles. Many personal records were set and the boys were crowned Division I-A Regional Champion runners-up.
Contact Rochelle Richards at BCRsports@gmail.com.