Personal records highlight meet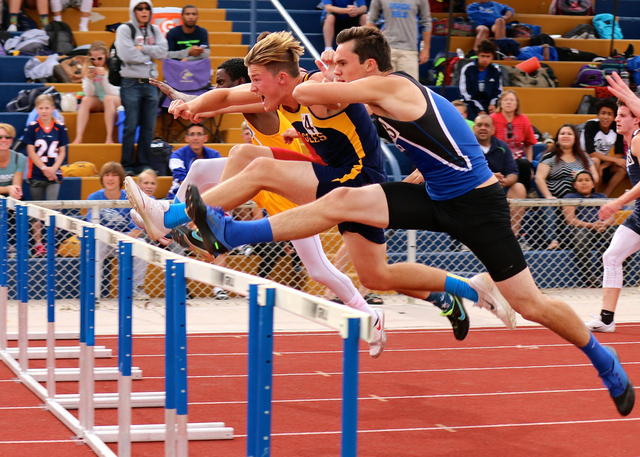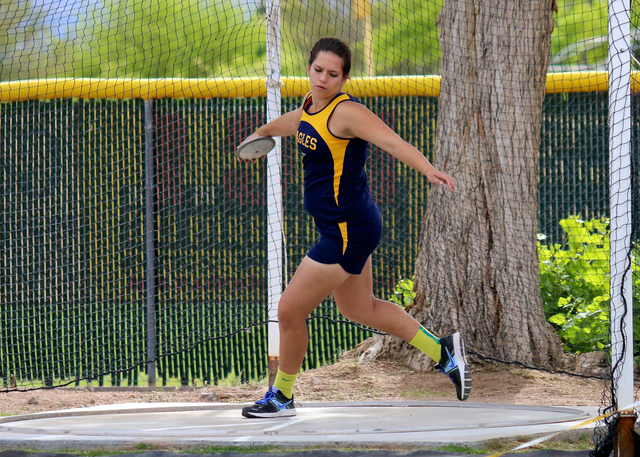 Friday afternoon, Boulder City hosted one of it's biggest sporting events of the spring season: the Ron Resler Invitational, a track and field meet attended by more than 15 schools.
It was a long and strenuous day for the Eagles, but well worth it. At least 10 athletes broke their personal records in 10 different events.
"Track has always been my favorite sport because in the middle of getting crushed by a bigger school, you have someone get a third place but (personal record) by a foot and a half," women's head coach Steve Roe said. "The individual accomplishments outweigh the team score."
On the track, senior Brooks Roe experienced hardship and triumph. During his run of the 110 hurdles, Roe injured his knee and ankle. He finished with a time of 16.10, slower than his 15.29 personal best, but still good enough to capture third place. But not all was a loss for Roe.
Later, Roe beat his personal record of 41.37 in the 300 meter hurdles with a first-place time of 40.92. But Roe's first-place finish didn't come to him easily.
"I hit (a hurdle) with my knee and then one coming off the turn I hit it with my front foot and it knocked down, and I almost fell out of my lane," Roe said. "I thought that would disqualify me or make me slower, but I saw a kid in front of me and I caught up to him, and something happened. I just went … I definitely pushed it until I got it."
Roe has always excelled at the 300 hurdles compared to the 110. He said his goal is to drop his time below 40 seconds, so he can beat the school record before he graduates. The school record for the 300 hurdles is currently 39.19 held by Eric Stefanski from 1988.
"I think I can (beat it)," Roe said. "Especially with the way I just ran. I know I can run hard if I practice running harder."
Roe also bested his personal record in long jump. Heading into the meet, his best was 18 feet, 8 inches. During the meet, he claimed seventh place with a jump of 19-04.
It was also a night of personal records for senior Brenden Cowley. Cowley placed fourth in shot put, with a throw of 47-08½, beating his previous record of 46.11. In discus, he claimed third place with a distance of 146-09, improving on his 141-7.
"It was a really good day," Cowley said. "Even though I took fourth in shot and third in disc, I am extremely happy. Because last year, my (personal record) was 110 and I barely made it to regionals. At regionals I (personal record)ed 118 and then I went to state and (personal record)ed 135. So I literally have just gone out of no where to competing with the kids that I never thought I'd compete with."
Before the season is over for Cowley, he said he hopes to get a 150 personal best in discus and a 50 in discus.
Junior Sam Gomez is expected to break the school record for discus soon. And while it didn't happen during the Ron Resler Invitational, he said he is optimistic and still has plenty of time.
"I hope to accomplish it," Gomez said. "I have thrown further in practice, and I've thrown further in warm ups for meets, so I just have to work on that. I'll practice this weekend, and Monday and Tuesday, and hopefully I'll throw better."
Gomez placed first in discus, throwing 159-08, and sixth in shot put, throwing 46-06½. Teammate Andy Sands took second in discus with a throw of 150-08, and third in shot put with 48-11½
In women's track and field, senior Sariah Gneiting beat her personal record in shot put, throwing 34-06¼, earning her fourth place. She also placed fourth in discus with a throw of 104-01.
It was an emotional day for senior Alexis Fenyves who was looking to beat her personal record of 33.5 in triple jump, but didn't place because of fouling.
Contact Rochelle Richards at BCRsports@gmail.com.