Nothing stops Lady Eagles flag football team; rain doesn't deter girls in 41-12 victory over Jaguars
January 6, 2016 - 5:31 pm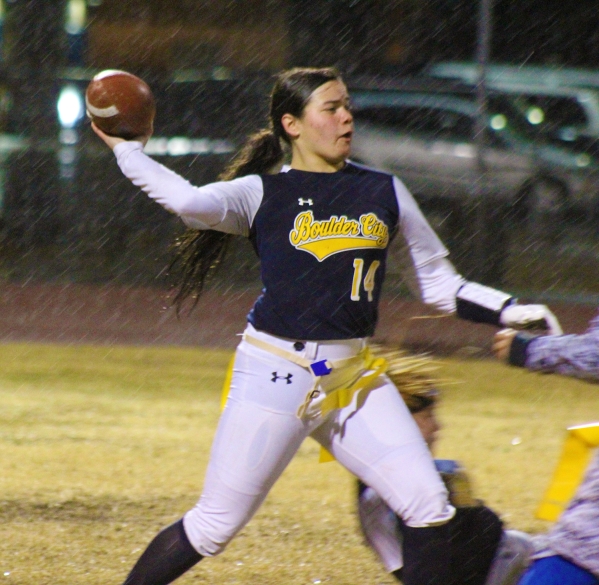 Weather conditions limited the Lady Eagles' offensive game plan Tuesday night against Desert Pines, but certainly not their effectiveness during their 41-12 rout of the Jaguars.
Despite a constant downpour of rain turning the Lady Eagles' field into a full-size slip and slide, senior quarterback Jeanne Carmell made sure Boulder City's offense wasn't flooded with errors.
"She's a special player," head coach Chris Morelli said. "She played a great game, you wouldn't have even known weather was a factor by looking at the stat sheet. Everything was clicking for us tonight."
Despite being limited in the run game with only four designed runs by players not named Carmell, the senior dual-threat was able to keep the offense moving Tuesday, advancing the Lady Eagles to 8-0 for the season. She completed 18 of her 30 pass attempts for 221 yards and four touchdowns. Finding a way to overcome wet ball conditions as well, Carmell as tucked the ball away eight times, picking up another 108 yards on the ground with a pair of additional scores.
"Weather was definitely a factor for us tonight, but we never make excuses," Carmell said. "When one thing isn't working for us on offense, we'll try another. It wasn't always pretty tonight, but we managed to pull out another victory and that's all that matters."
Serving as her favorite target for the night, senior wide receiver Oshanna Remy caught seven passes for 102 yards and three touchdowns, while senior wide receiver Tarah Cox added six catches for 64 yards and a touchdown.
Remy also rushed once for a gain of seven yards, while Cox added a 12-yard dash for the Lady Eagles. Senior Makenzy Waldo and junior Kenadee Bailey added 14 yards each on the ground.
While the Lady Eagles offense was clicking on all cylinders despite the weather conditions, the opposing Jaguars didn't fare as well.
Swarming Desert Pines defensively, the Lady Eagles were all over the field Tuesday, making countless defensive stops.
"I'm really proud of the girls' efforts defensively." Morelli said. "It was cold, wet and miserable out there and they could have easily gotten distracted. Throughout the game they were simply dominant and never let up."
Senior Paige Buettner led the team in tackles with nine, while Remy and Bailey added eight and six tackles, respectively.
"These are a tough group of girls," Morelli added. "They constantly tried to run up the middle on us all night and jam it down our throats, but our girls didn't break. We put four girls on the line and they got the job done."
Carmell also got involved in the Lady Eagles' defensive efforts, tallying five tackles and an interceptions, while Cox and Waldo earned three tackles each.
The Lady Eagles have now intercepted at least one pass in all eight games this season.
Entering the heart of their league schedule this week, the Lady Eagles travel to Chaparral today, followed by outing against Virgin Valley at home on Friday and on the road at Del Sol on Wednesday.
"We just have to continue to take each game one day at a time," Carmell said. "We know were capable of winning, we just have to go out there and execute. This upcoming week is going to be big for us."
Stuck in a four-way tie for the top spot in the Division I-A Sunrise Conference with the Cowboys, Bulldogs and Dragons with 4-0 league records each, this week's slate of games will hold key playoff implications.
"This is a big week coming up for us," Morelli concluded. "We're going to do our best to prepare the girls and put them in successful situations. We set a goal to be champions at the beginning of the season and it all starts Thursday. We need to play up to our capabilities and we'll come out fine."
Contact Robert Vendettoli at BCRsports@gmail.com.
^
Upcoming Games
Today, at Chaparral, 4:30 p.m., junior varsity; 6 p.m. varsity