Nine seniors have signed to play sports in college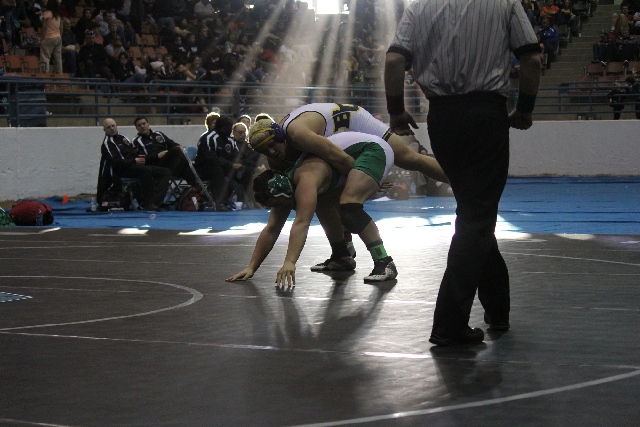 It was not only a successful year overall for Boulder City High athletic teams in a new league, but it also was a good year for scholarship signees.
Nine seniors garnered scholarships to play college athletics based on efforts in their high school careers.
It is the most in one year in many years, according to Boulder City Athletic Director Regina Quintero.
"The numbers are pretty good this year," Quintero said. "I think the numbers are higher than they have been in the past because our student athletes are finally figuring out that they can actually go on and participate even if it is not a Division I school.
"For a long time the athletes had the impression that if they were going on to be a part of an athletic program after high school that the only ones that meant anything were the big D-I schools. I'm glad the numbers of athletes going on to college is rising."
When two-time state champion wrestler Brandon Foster signed on April 12, it brought to nine the number of signees this school year for Boulder City.
Foster signed a national letter of intent to wrestle for Embry-Riddle Aeronautical University in Prescott, Ariz., during a ceremony in the school's gym, but his thoughts were already on winning a national championship at the next level.
"I was signing the paper, but my mind wasn't there," Foster said. "I was already dreaming ahead. I am so pumped to begin wrestling in college that I could envision myself winning a national championship. Just like in high school, I dreamed it, I followed that dream and I made it happen. My goal is to win the national championship. Going to college on a scholarship is a dream come true."
Foster said he chose Embry-Riddle because "it is highly rated in aviation and aerospace education and offers a variety of air and space related degrees. That's what I want to study."
Other seniors who have signed to compete in college are:
Jeremy Estes signed a men's swimming scholarship with the University of Chicago. He is a sprinter who won the individual state title in the 50-meter freestyle and the 100-meter butterfly and was part of the school's state championship and record-breaking 200-meter freestyle relay team. The Eagles repeated as state champions. It is the fourth consecutive year that a male swimmer from Boulder City has signed to swim in college.
Avalon Frantz is a setter who will play Division I women's volleyball at the University of Houston. Frantz was named the Nevada female Wendy's High School Heisman Award winner and a top 12 national finalist. She was selected Division 1-A first-team all-state, all-Southern Region and all-Sunrise League.
Clinton Garvin, a two-time state champion as a sophomore and junior, will wrestle next season at the University of Great Falls in Montana.
Tanner Howell, the I-A All-Southern Region's Most Valuable Player, signed to play baseball at Dixie State College in St. George, Utah. Howell, a pitcher and shortstop, batted .491 with five home runs and 58 RBIs.
Michael Kelso signed to play football for Colorado School of Mines in Golden to pursue a career in engineering.
"I will get to do the two things that I want to do in college, study engineering and play football," said Kelso, who was selected second-team, all-state at tight end. "It's an honor to have a school allow you to play on the college level."
Summer Nix will play college soccer for Ottawa University in Kansas. Nix did not play soccer for the Lady Eagles, but was an outstanding goalkeeper for Empire Club.
Kasey Ochoa signed with Midland College in Texas to play women's softball. Ochoa will play second base and shortstop in college. She was named to the first-team, all-Southern Region team this season.
Megan Purdy signed her national letter for women's swimming with Division I Northwestern University in the Big Ten Conference.
"It is a great swimming conference and a great school and I was so excited to get an opportunity to swim there," Purdy said.
Earlier this month, Purdy helped the Lady Eagles win the team's first state championship. She won the individual title in the 500-meter freestyle.
She is mainly a middle-distance swimmer, excelling in the sport since age 6 with the Boulder City-Henderson Heatwave, a nationally regarded amateur swim club.
While the current number sits at nine, it will likely move to 10 when first-team, all-Southern Region catcher Billy Barth makes a decision on his future. Already assured a spot on the College of Siskiyous, a junior college in Northern California, Barth is scheduled to work out with the College of Western Nevada this weekend.
Quintero is glad to see more athletes taking advantage of the opportunity to participate in sports beyond high school.
"I personally think that even more student athletes should take a look at participating in athletics at all of the levels, such as Division II, Division III, junior college and NAIA," Quintero said. "There are plenty of opportunities out there if athletes want to take advantage of them."