New softball coach ready for challenge
March 19, 2014 - 12:21 pm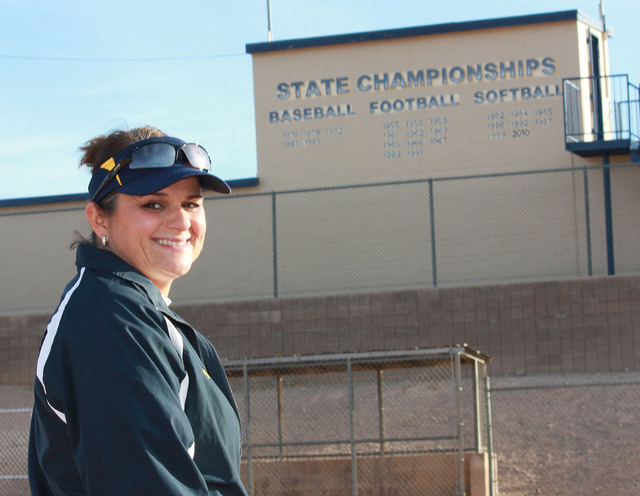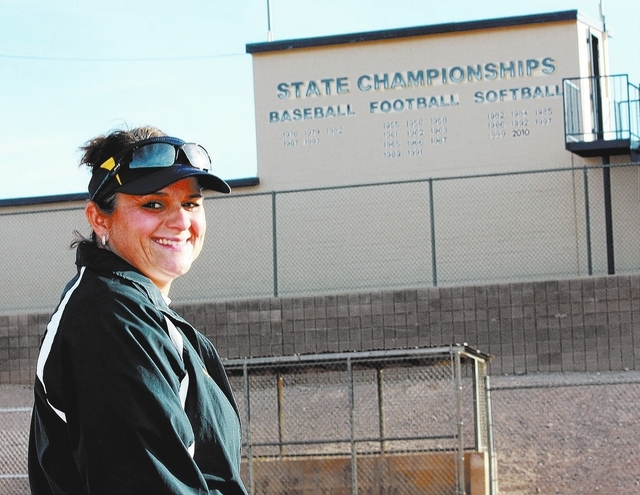 New Boulder City softball coach Angelica Moorhead knows she is stepping into local history. As she begins her first season as the Lady Eagles' head coach, she knows the program has long been one of the state's best and that she is expected to keep it there.
Moorhead is only the fifth head coach to lead the program in 42 years.
"One of the reasons I took the job was because the program is known to be successful and keeping it at that level is a challenge," Moorhead said. "I know there are high expectations on me, but I also have high expectations for me and for the athletes and everyone associated with the program."
Moorhead was named coach in November, three months after Bruce Reid retired. She graduated from the school in 1987 and has coached the sport for 18 years, the past three at Boulder City as an assistant to Reid.
Reid retired Aug. 10 after 19 seasons, the past 11 as head coach of the Lady Eagles' softball program. He had a career record of 265-104 for a 71.8 winning percentage. Reid coached the Lady Eagles to a state championship in 2010 and to four academic state titles during his tenure. The 2010 team won both titles, on and off the field, with a team grade-point average of 3.8.
Moorhead says keeping academic achievement as high as the batting averages is a priority.
"We have an excellent group of girls on and off the field at Boulder City and that will continue," she said.
The first four coaches are all notable in the school's history and have won championship banners. She follows Reid, who was selected for induction into the Golden Eagle Hall of Fame last week, and Regina Quintero, the school's athletic director. The other two head coaches were Ben Davis and Moorhead's onetime head coach Barney Schultheis.
"Angelica has a tough act to follow, but she is the right person for the job," Quintero said. "We know we have an excellent coach in the position and that the program will flourish under her leadership."
A year ago, the Lady Eagles were 27-9 overall and 11-1 in the Sunrise League. They won the regular season league championship.
There are six returning starters in junior Mikaela Brown, pitcher/third base; sophomore Charlie Masterson, pitcher/second base; senior Kaila Davis, utility; junior Alyssa Ybarra, outfielder; senior Nikki Schulz, outfielder/catcher; and senior Katlyn Jackson, first base/outfielder.
"We're looking forward to an exciting season," Moorhead said. "The young group is ready to play and work toward a winning season and hopefully to reach the state games in May."
The Lady Eagles have four seniors, four juniors and five sophomores.
Other players that Moorhead called important to the team's bid for a championship are senior Summer Smith, juniors Lauren Axelson and Jessica Embro, and sophomores Kylee Hamel, Jeanne Carmell, Megan Morton and Bryanna Lopez.
"We need everyone on the team to contribute for us to be the successful team I know we can be," Moorhead said. "It takes nine players to work together for one common goal, and that is to win ball games."
The Lady Eagles started the season with the Colorado River Invitational tournament in Needles, Calif., March 13-15. It was a 20-team tournament and Boulder City was the defending champion.
The Lady Eagles played seven games in three days and ended with a 5-2 record. They were hot with the bats, collecting 68 hits in the seven games, led by Masterson's 13 hits.
Brown, Davis, Lopez and Schulz rounded out the top five hitters for the Lady Eagles. The team had 27 RBIs. Davis had 10 RBIs and the game-winning RBI against Barstow in the bottom of the fifth inning with two outs in a semifinal win that advanced the Lady Eagles into the championship game.
"This season we have been working on switching batters over to the left side to create more 'slap' hitters and play the short game," Moorhead said. "Kylee Hamel, our only true left hander, is joined by Ybarra, Embro, Jackson and Morton. These young ladies put up a total of 19 hits from the left side during the tournament."
On the mound, Brown had 13 strikeouts, while Masterson had 16 for the weekend.
The Lady Eagles have other out-of-state tests ahead. During spring break, they travel to Southern California for games against California teams Redondo Union and Palos Verdes.
"It should be an exciting couple of days playing teams from another state to see where we stand as a ball club," Moorhead said. "Overall, we have 21 games during our season, and we will be hosting three night games — March 28, April 24 and April 25.
"Our team goal is to play hard and take one game at a time to get to Reno in May for the state championship tournament. We are fortunate to have a strong and talented squad in all areas of the game, pitching, hitting and defense."
Boulder City plays at 4 p.m. today at Faith Lutheran.