Morton named to I-A all-state first team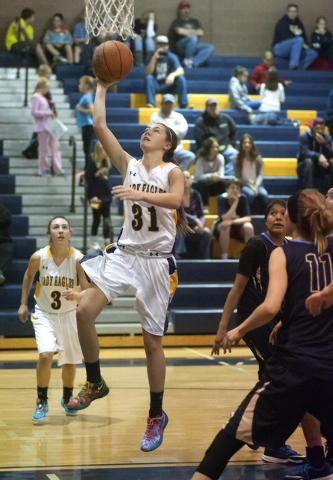 Boulder City girls basketball forward Megan Morton was selected to the Division I-A all-state first team March 20. She also received all-state honors in 2014 when she was second-team.
"I am really thankful to my teammates and coach because we played as a team all year and any personal recognition should be shared with the entire team and the coaching staff," Morton said.
Last month, Morton was selected All-Southern Region first-team and All-Sunrise League first-team. Morton was co-MVP of the Sunrise League.
Morton, who was the Lady Eagles' leading scorer with an average of 17.2 points per game, also averaged eight rebounds and two assists per game. She helped to lead the Lady Eagles to an 18-10 overall record and a playoff berth. The Lady Eagles also tied for first place with Chaparral with a 12-2 Sunrise League record.
"I am really proud of Megan. She has worked on her game very, very hard," Boulder City coach Paul Dosch said. "Her work ethic is second to nobody. She has a passion for the game that you can't teach. She wants to get better every day."
Morton is playing with the Henderson Heat, an amateur travel club team, and will play 30-plus games this spring and summer, including tournaments in California, Oregon and Chicago.
"I am really excited about playing for the Heat and stepping up my game," Morton said. "It is very competitive and will make me a better player as a senior but also it will get me out there in front of the college coaches and recruiters. I hope to play basketball in college."
Contact Pedro F. Fonteboa at BCRsports@gmail.com.