Morton hits career-best 24 points against Sunrise
January 16, 2014 - 5:00 am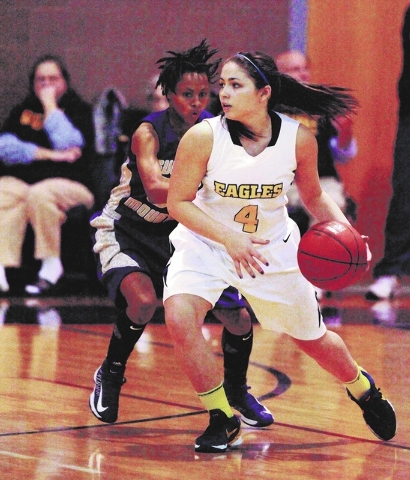 Sophomore forward Megan Morton is playing her first year of varsity girls basketball, but she is not intimidated by the older, often taller opponents.
Morton has become the much needed sixth-man for the Boulder City Lady Eagles and has been improving each game. She dropped 24 points on Sunrise Mountain in Friday's 59-35 victory, after hitting for double figures in her three previous game.
"Megan is the real deal; she can flat out play," head coach Paul Dosch said. "She is a player who can shoot, post or penetrate a defense. She can play inside or outside and is a threat from so many places on the court.
"Megan is a matchup nightmare for opponents," Dosch added. "I am so glad she is on our team and we don't need to defend against her. I have seen her play since she was in middle school and she has been improving each year."
Against Sunrise Mountain (8-8, 2-1) on Friday, Morton scored her varsity career-best 24 points while making 5 of 8 free throws in the Sunrise League win against the Mustangs. Senior Whitney Barlow added 13 points and 20 rebounds for the Lady Eagles, who led 27-14 at halftime.
Guard Jana Williams scored seven points, while guard Alyssa Ybarra and forward Ali Rovacchi each added six points.
Boulder City, 11-2 overall and 2-0 in the Sunrise League, visits Tech for a league contest Friday, but the real challenge comes at 5 p.m. Saturday at nonleague rival Foothill.
With only two games in 11 days, coach Dosch's Division 1-A team will be rested and prepared to meet the larger, Division 1 Lady Falcons who are 13-4 overall and have been ranked as high as No. 5 in the state.
"While Foothill is not in our league or division, it is an important game because they are one of the best teams in the state and it really gives us a challenge and a chance to step up our game against them," Dosch said. "They have three starters from their undefeated junior varsity team playing varsity and they are a solid team."
Although they're playing for their fourth head coach in four years, the Lady Eagles continue to excel.
They were Division 1-A Southern Region runner-up last season and reached the state semifinals. But Dosch knew he still had to mold the team into a new one for this season. The play of Morton, along with Barlow and guards Williams, Ybarra and Katlyn Daly has made the Lady Eagles tough again.
Foothill promises to be their toughest game of the season, in league or out.
"Foothill is a true test for us," Dosch said. "We are close to where we want to be as we started our league schedule this past week, but Foothill provides a great challenge, both physically and mentally. I want to challenge the team every single day.
"The girls are responding more and more each day to the 'together' theme and that it's not about any individual."
After Foothill, the Lady Eagles return home Tuesday for a 5 p.m. game with Chaparral.