Morton helps put cagers at top of league
January 14, 2015 - 2:31 pm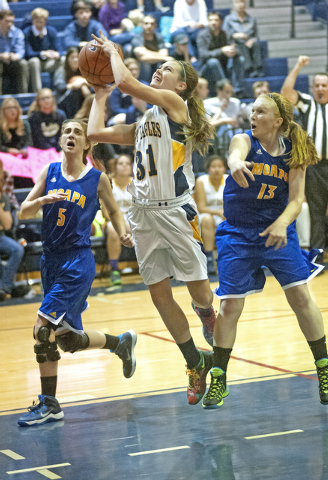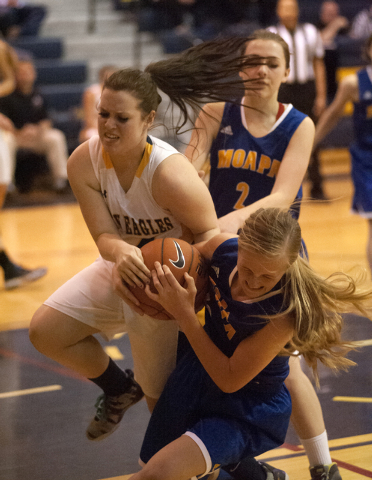 Boulder City's Megan Morton continues to show why she is considered one of the state's best girls basketball players in Division I-A.
The junior scored 19 points and grabbed 13 rebounds Friday as the Lady Eagles remained unbeaten in the Sunrise League with a 50-24 victory over visiting Moapa Valley.
"Megan has worked a ton in the last two years since I became coach," Paul Dosch said. "She has been getting up a ton of shots in the off season and her offense has become a huge weapon for us."
Teammate Alyssa Ybarra added 9 points as the Lady Eagles held Moapa Valley to eight field goals.
Morton is averaging 17.5 points and nine rebounds per game and she has helped the Lady Eagles to 5-0 league record and a 11-5 overall record. A year ago, as a sophomore, she was chosen all-state, all-region and all-league.
But she keeps it in perspective.
"I am only as good as my teammates," Morton said. "I am lucky to have two of the best guards in the state in our division with Alyssa and Katlyn (Daly). They have knack for getting the ball to me at just the right time to make my job easier.
"I am also lucky to have good coaches here at Boulder City that have tried to teach me the game of basketball and are willing to work with me," she added. "I don't feel any pressure, I am just trying to do my best each game. I am lucky to be pretty decent, so far."
In a 64-48 victory at Desert Pines on Jan. 8, Morton and Daly each scored 15 points.
"It's good to have someone under the basket that has the presence she has," said Daly, a senior. "Alyssa and I take turns bringing the ball down or shooting outside, but Megan makes it easy for us to get assists. She likes the ball in the paint for short jumpers and she puts it in the hoop, even when she is fouled. I am glad to have her under there scoring and getting rebounds at both ends of the court."
The Lady Eagles were also led by Ybarra's 12 points and good defensive play from Sam Hanson and Rylee Dosch. Boulder City went on a 20-point run after the first quarter to lead 36-16 heading into the final period.
Boulder City will play Friday for first place in the league when it travels to Chaparral (10-4, 4-0) and then Wednesday at home against third-place Virgin Valley (8-5, 4-1). Both games are at 5 p.m.
"The next two games are against teams that are right behind us and they are must-wins, but we play them one at a time," Morton said. "Before each game in the locker room coach Dosch tells us to be 1-0. We only play one game at a time and we need to win one at a time. We don't want to get caught looking ahead.
"This isn't about me or Katlyn or Alyssa, it is about winning together as one team and defending our league title, and returning to the region and state tournaments. We have a great chemistry and we know what we need to do."