Morton expects to help mold Lady Eagles' basketball team
November 18, 2015 - 3:29 pm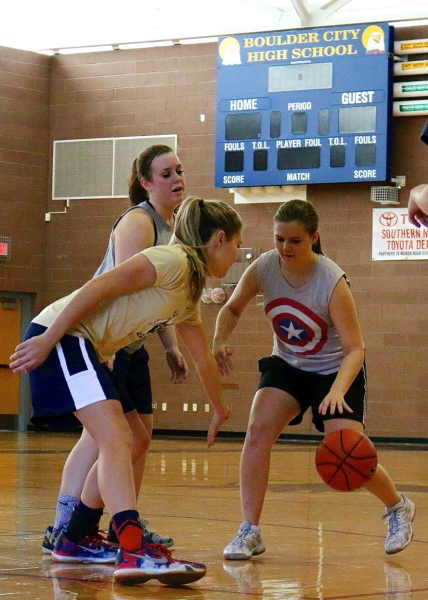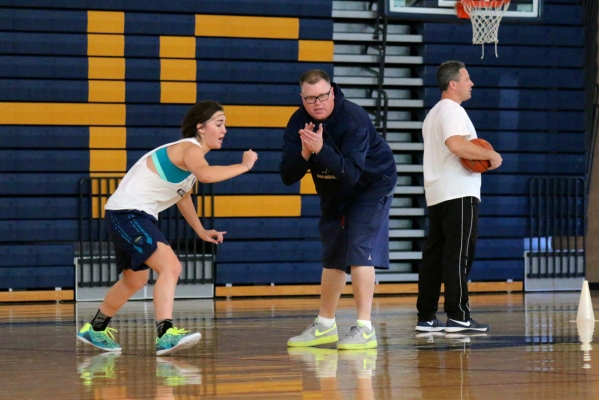 Just a year off from back-to-back state tournament appearances in 2014 and 2013, Boulder City head coach Paul Dosch is hopeful his squad can make it there again this winter.
"We are very young team this season, but our goals stay the same," Dosch said. "First, win our league and try to make it to our ultimate goal of winning a state title."
Returning for her senior season to help lead the Lady Eagles to their ultimate goal of winning a state title is guard Megan Morton, who was an All-Southern Region first team selection a season ago.
"There's nobody better in this league than Megan," Dosch said. "As she goes, we'll go this season. We lost a lot of production due to graduation, so her play for us will be even more important this winter. Everyone knows she can score with the best of them, but we're going to try in mold her into a complete player this year. She's going to be asked to be more of a leader and do things she's never done before, but when you have a player of her caliber things should go smoothly."
Sharing Division I-A Sunrise Player of the Year honors as well last season with Taij Criss-Felton of Chaparral, Morton led the Lady Eagles to a 18-9 record while averaging 17 points per game. Coming into a new year, the Lady Eagles' star hopes to add on more accolades to her already well-established prep resume, while getting the new wave of Lady Eagles ready for the future without her.
"Obviously it's my senior year so I want to go out with a bang," Morton said. "I want to conclude my prep career with a championship more than anything else, but I know it takes a team more than just an individual effort. It would be nice to repeat as league player of the year, but more importantly I just want to win ball games. We have a younger roster this season, mixed in with a few returners, so it's my job to get everyone ready, not only for this season but for future seasons."
Slated to help Morton in the backcourt will be a mixture between senior returners Rylee Dosch and Lauren Mullins, along with first-year varsity letter winner junior Alea Lehr.
Dosch will split time between both guard positions and small forward this season in an attempt to give the Lady Eagles depth at multiple positions, while Mullins is expected to see time at both guard spots as well. Lehr, following a breakout season last year as a sophomore on the junior varsity level, could be a nice spark to the Boulder City offense that is starving for points after graduating five contributing scorers from last year.
"Depth is going to be something we'll work hard on establishing," Dosch said. "We have a lot of new girls right now, so it's hard to pinpoint where everyone fits, but by the time league rolls around, we'll definitely have everything figured out. We lost about 85 percent of our scoring production from a season ago so someone from this group is going to need to step up and carry a load. It can't just be all Megan this season."
Also expected to get minutes at the two guard positions this season will be juniors Hanna Doane and Jenna Rotroff, while freshman Hanna Estes could be a wildcard for the Lady Eagles this season.
Returning at the forward positions this year will be junior Jules Worrall and sophomore Jerra Hinson, who should both see an increase in their production this season.
Worrall is expected to become a double-double player for the Lady Eagles, with the ability to score and grab rebounds in the double digits, while Hinson is also expected to contribute but more toward the defensive end.
"We expect a lot from Jules this season," Dosch added. "She has all the tools to be one of our best players; now we just need her to be more aggressive and attack. Jerra's also someone we'll lean on this season, but she's still young and progressing. We saw a lot of promise from her late in the season last year so we're hopeful that continues this year."
Also expected to earn minutes in the frontcourt this year will be senior Kaitlyn Blumenthal, along with junior Cortney Blumenthal and freshman Setia Cox.
The Lady Eagles will open their season up on the road against Spring Valley on Dec. 1.
Contact Robert Vendettoli at BCRsports@gmail.com.