Morton earns league, region Player of Year honors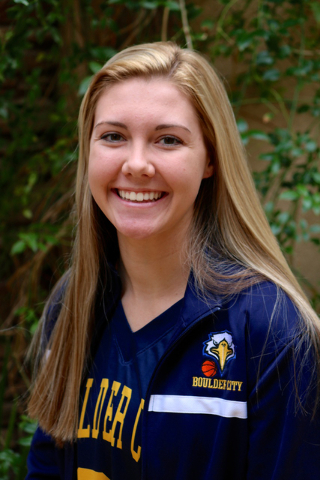 Boulder City girls basketball head coach Paul Dosch couldn't vote for his star senior to repeat as league Player of the Year earlier this month, but said it would have been a no-brainer to select last season's Division I-A Sunrise Player of the Year. Luckily, the league's remaining seven coaches did the bidding for Dosch.
"One of the great things about her winning league and regional most valuable player was that I couldn't vote for her," Dosch said. "The other coaches were the ones who nominated her, so she made quite an impression on all of them."
Leading the state in scoring regardless of classification rank, senior Megan Morton was rewarded as league Player of the Year for the second consecutive season, after averaging just over 21 points per game, while earning Division I-A Southern Region Player of the Year honors as well.
"It's an honor to be able to be named the most valuable player, but I couldn't have done it without my teammates and my coaches all supporting me and pushing me to do my best all the time," said Morton, the team's shooting guard.
A first team selection for the Division I-A Sunrise and All-Southern Region team, Morton also averaged 8.6 rebounds and 2.8 assists per game this past season for the Lady Eagles, but it was her worker bee type attitude to become more than just a scorer that landed her this year's top prize.
"Coaching Megan has been very easy, she's always wanted to get better every day," Dosch said. "She has worked very hard the last three years for our staff. She was in the gym all summer; she was a much tougher kid after all her AAU summer schedule and she has tremendous upside at the next level. (I'm) very proud to have coached her; she will be missed."
A key three-year contributor for the Lady Eagles, Morton, who signed with University of the Cumberlands in February, will certainly be missed next winter. One of the most prominent athletes to put on an Eagles uniform, regardless of sport, Morton's contributions to the program will live on further than her graduation date in June.
Contact Robert Vendettoli atBCRsports@gmail.com.