Morelli heading to Dominican University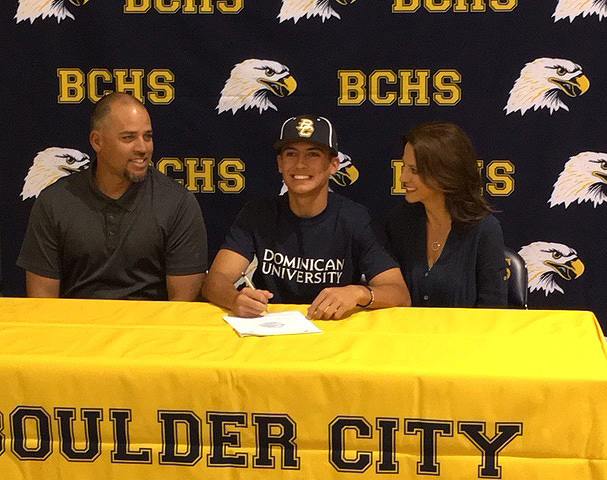 From the moment he met his future teammates, senior Michael Morelli knew he had made up his mind about where we wanted to continue his playing career and further his education.
A two-year contributor for the Eagles baseball program, Morelli has committed to play Dominican University in River Forest, Illinois, next season, where he'll major in biology.
"I really like Dominican because of the atmosphere," Morelli said. "It has a small-school feel to it. At Dominican you're a name, not a number. I also really liked the coaching staff and the team. They're all really great guys and I hope to be able to win a title there."
Baseball aside, Morelli factored in education most in his decision, stating Dominican University has the tools and people in place there to help him succeed after baseball.
Following a brief varsity call-up as a sophomore, Morelli has turned into a regular starter for the Eagles throughout the past two seasons, coming on strong as a junior.
Batting .295 last season with 15 runs batted in and five stolen bases, Morelli has bumped up his play tremendously for the Division I-A Sunrise League champion Eagles, currently batting .339 with nine RBIs, three doubles and a pair of triples.
"Michael Morelli is an outstanding baseball player," senior teammate Steve Wagner said. "I've had the privilege of knowing Mikey and being his friend for a long time and I can tell you that he works hard on and off the baseball field. He's a great infielder and he is a scrappy talented baseball player. He helps our team tremendously in the field and at the plate. I'm really excited for him, I know he will work hard and do very well on the collegiate level next year."
Currently sitting with a 16-20 record overall and a 9-9 record in the Northern Athletics Collegiate Conference, Morelli has an opportunity next season to be one of the program's regulars, just like he worked his way up through the Eagle program.
"I'm mostly excited about being in a whole new city," Morelli said. "I'm excited to play baseball for a great program and contribute however I can."
Contact Robert Vendettoli at BCRsports@gmail.com.