Mixed results at invitational starts volleyball season
September 3, 2014 - 12:17 pm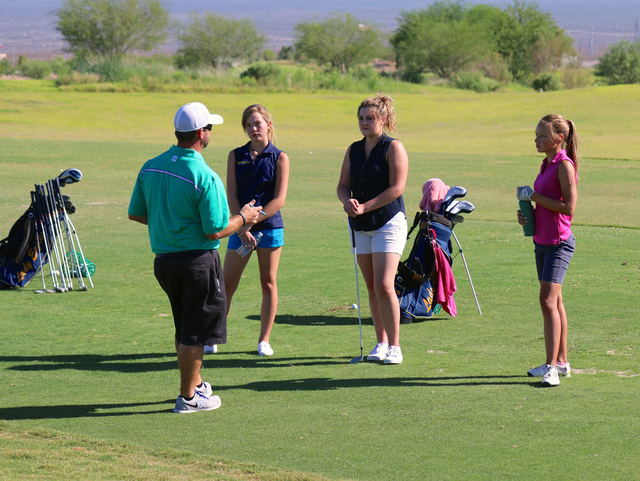 The Boulder City girls volleyball team opened its season Friday with three matches in the Las Vegas High Invitational. The Lady Eagles lost 2-0 to Douglas (25-21 and 25-18) and Foothill (25-17 and 25-19) before sweeping Division I Arbor View, 27-26 and 25-12.
The Lady Eagles also played three matches Saturday, defeating Virgin Valley and Utah's Canyon View but losing 2-0 to Durango (25-23 and 25-19).
"It was a bit of a roller coaster for an opening weekend," head coach Cherise Hinman said. "But we came out of it with a few things to work on to get our season off to a great start."
The team also played Wednesday at Desert Oasis to open the regular season; the score was unavailable at press time. Their home opener is Tuesday against Basic.
Girls Golf
The girls golf season started Wednesday with a Sunrise League match at Silverstone with new coach Andy Schaper.
Boulder City athletic director Regina Quintero has stepped down as the girls golf coach but will remain as coach for the boys golf team in the spring.
They also tee off at 3 p.m. Monday against Desert Oasis at Highland Falls Course and at 11 a.m. Wednesday in a Sunrise League match at Wildhorse.
Tennis
The girls tennis team defeated Sierra Vista 11-5 Friday behind Melissa O'Berto, who went 2-1 in singles to lead the Lady Eagles.
The boys lost 12-6 to Sierra Vista. The Eagles' Andre Pappas was 2-1 in singles, and Jacob Harrison and Eric Gros were 2-1 in doubles.
Both teams play at home at 3 p.m. Friday against Del Sol and at Tech on Tuesday.
Cross-Country
The boys and girls cross-country teams start their season at 8 a.m. Saturday in the Las Vegas Invitational at Sunset Park. Their first home meet is a Sunrise League meet at 4:30 p.m. Wednesday at Hemenway Park.