Masterson hopes to lead Lady Eagles softball team to state title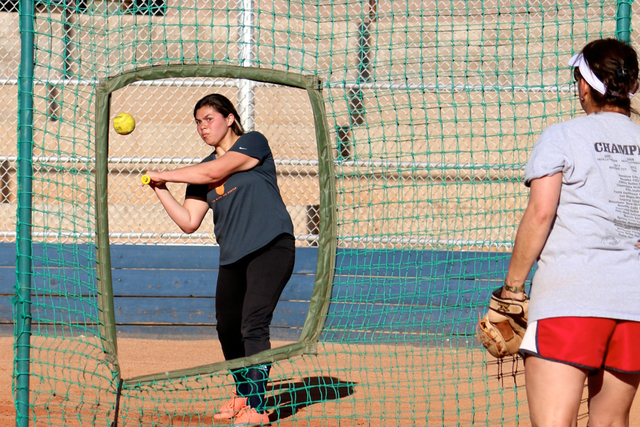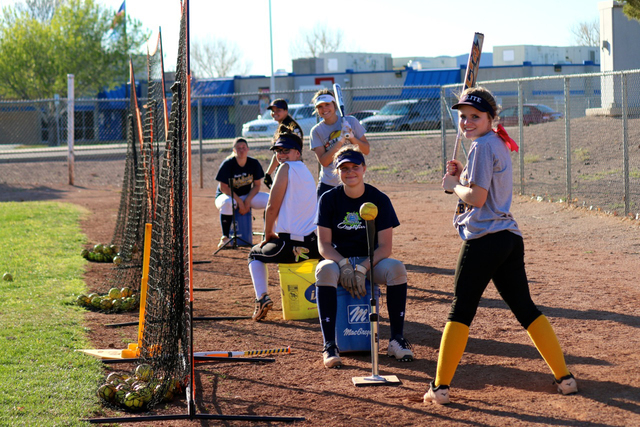 Senior Boulder City High School pitcher and slugger Charlie Masterson has held the title as the state's best two-way player since she stepped foot on the diamond for the Lady Eagles during her freshman season.
Masterson is ready to be labeled another title that has eluded her throughout her already storied prep career: champion.
"Winning a state championship this season is the only thing on my mind," Masterson said. "We've come close to reaching that goal in the past, but I really feel like this is our year. Were going to lay it all out there this year on both sides of the ball."
A key cornerstone for the Lady Eagles' first state championship aspiration since 2010, Masterson, who signed with hometown UNLV in November, will be the driving force for Boulder City once again this season.
"Charlie is as special as they come in this state," said Lil' Rebels 18 under head coach Gordie Mark, Masterson's travel ball coach, who's roster is ladden with Division I collegiate prospects. "Every once in a while you see a talent like Charlie come around. For Boulder City to have a kid like that to lean on, on both sides of the ball, takes the pressure not only off the others players, but a coaching staff."
One of only three Division I-A players to be named an All-State selection last season, Masterson batted .515, with 53 runs batted in, 10 doubles and four home-runs, while compiling an 18-7 record on the mound with a 0.99 earned run average and 215 strikeouts in 149 innings.
While dominating in every aspect of the game has been her strength the past three seasons, Masterson noted that this season's state championship run has to be a total team effort if the Lady Eagles want to end their state title drought.
"I'm honestly really excited about the outlook of this year's team," Masterson said. "We have a lot of returners from last season's team and I think we'll be able to put together a solid season. I have faith that we can all come together and end this year with a bang."
Coming off a season in which they finished 25-10, and fell just one game short of a Division I-A state tournament appearance, the Lady Eagles return a key core of hitters centered around sophomores Jerra Hinson, Jordan Moorhead and Lily Osman.
"The development of all three of them will be key for us," Masterson added. "They all got their chance to shine last season as freshmen, so a lot will be expected of them. If Lily's healthy, she can be a real force for us."
Dealing with off-season injuries throughout her career, a heathy Osman would certainly be a postive for the Lady Eagles, after she batted .302 last season with 29 hits, 17 RBIs and seven doubles. Her RBI and doubles total were second on the team, only trailing Masterson. Her bat is expected to be key to this season's title run.
Hinson and Moorhead also will be relied upon heavily, following breakout freshman campaigns. Last season Hinson batted .385 with 20 hits, 12 RBIs, two doubles and a triple, while Moorhead batted .269 with 18 hits and 12 RBIs.
Senior catcher Bryanna Lopez is also expected to contribute heavily with her bat and behind the plate, after batting .233 last season with 21 hits, 12 RBIs and a pair of doubles.
"We most certainly have a great chemistry between us," Masterson said of Lopez. "I feel comfortable with her behind the plate."
Along with an experienced core of batters, the Lady Eagles also return their No. 2 starter from a season ago in Moorhead, who had great success relieving Masterson for much-needed rest.
Compiling a 6-3 record with a 1.83 earned run average and 48 strikeouts in 46 innings, Moorhead should once again serve as a nice complement to the hard-throwing Masterson.
With a state title in their sights, the Lady Eagles open their season March 10 against Mountain View as part of a four-game slate in the Colorado River Invitational.
"I'm just excited to go out there and play the sport I love," Masterson concluded. "This is my senior year, I want to make it count."
Contact Robert Vendettoli at BCRsports@gmail.com.