Losses inspire boys basketball team to focus on cohesive play
December 19, 2013 - 5:30 am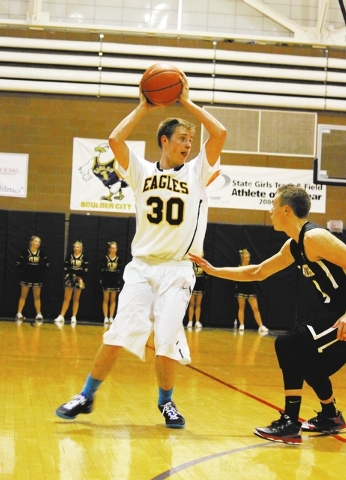 The Boulder City boys basketball team, betrayed by poor free-throw shooting, lost 49-45 to visiting Faith Lutheran on Friday.
The Eagles had hoped to bounce back Monday, but again lost another close game, 70-63 at Desert Oasis.
The Eagles led at halftime in both games and challenged in the second half before coming up short. The losses dropped the Eagles to 3-4 for the season.
"We are doing pretty good for much of the game, but losing close ones at the end, so there is room for improvement," senior guard Tyler Newby said. "The upcoming tournament in California will help us get even better and prepare us for our league schedule."
Against Faith Lutheran, Marcus Walker scored 15 points to lead Boulder City. But the Eagles made only 9 of 21 free throws and could not retake a lead they held much of the first half.
Faith Lutheran scored the first half's final six points to close from 19-12 to 19-18. The Crusaders then took a lead early in the third quarter and never trailed again.
Newby and Lane Worrall each scored 11 points for the Eagles, who twice closed their deficit to three points in the game's final 90 seconds. With the Eagles trailing 48-45 with 13 seconds to play, Newby's 3-pointer rolled in and out.
"We are losing the close games because we have not played together very much and don't have the chemistry yet to pull out the close ones," guard Worrall said. "But we will keep practicing and working together and I think we will do well in the holiday tournament in California, especially if we play like we did against Faith Lutheran.
"As long as we play more games in the tournament and get the experience, it is all a win. Right now, we are trying to get better as a team."
Newby led Boulder City with 11 points against Desert Oasis (6-5).
The basketball team is off this week before playing Dec. 26-29 in the Paloma Holiday Classic in Paloma, Calif.
The Eagles begin their Sunrise League schedule with a game Jan. 6 against Moapa Valley in Overton. Their home league opener is Jan. 10 against Sunrise Mountain.
Wrestling
Team Boulder will compete in the two-day Las Vegas Holiday Classic Friday and Saturday at the Las Vegas Convention Center. More than three dozen teams will compete.
Team Boulder had a tri-dual Tuesday at Mojave where the Eagles (6-1) took on Canyon Springs, Legacy and Mojave.