Loss to Foothill offers valuable lesson
January 23, 2014 - 5:11 am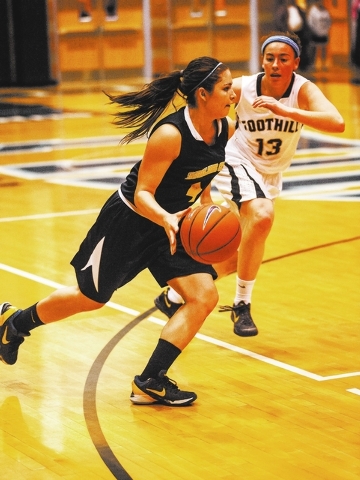 First-year Boulder City girls basketball coach Paul Dosch scheduled nonleague opponent Foothill in the middle of his team's Sunrise League schedule as a way of measuring his team. Playing the larger and faster Division 1 team would allow Dosch to expose the Division 1-A Lady Eagles' weaknesses while providing experience against a formidable opponent.
Foothill did just that Saturday with a solid 59-28 nonleague victory at home against Boulder City. The Falcons jumped to a 35-13 halftime lead and were never threatened.
"We learned that to be the best, even in our league, we have to play the best," senior forward Whitney Barlow said. "We learned a lot from the Foothill game and we will be better for it. We played scared in the first half before we finally realized we were good enough to compete with them even though it was too late to win the game.
"We learned that we have to play as a team of 10 and help each other, not just rely on a few players," Barlow added. "But we got better even if we did lose, and it will help us in the playoffs."
The Lady Eagles will try to get back on the winning track at home at 5 p.m. today in league play against Virgin Valley (8-7, 2-1).
Against Foothill, Boulder City junior guard Katlyn Daly scored eight points, while Barlow and junior guard Alyssa Ybarra each scored six and senior guard Jana Williams added five.
Boulder City's record fell to 12-3 overall. Although they are 3-0 in the Sunrise League and in first place, the Lady Eagles got a lesson from Foothill on the areas they need to improve.
"We struggled with Foothill's pressure and made 33 turnovers," Dosch said. "Katlyn played well. Even in the loss, she stepped up and ran the offense. She is improving with each game and that is the goal."
Foothill improved to 14-4 overall. They have been ranked as high as No. 5 in the state.
Despite a fourth head coach in four years, the Lady Eagles continue to excel in their league.
In a league game Friday against Tech, Williams scored 11 points and Barlow added 10 points to lead the visiting Eagles past the Roadrunners 36-28.
"Whitney carried us in the first half and Jana stepped it up for us in the second half," Dosch said.
"This season we have been playing one game at a time and we have been playing well," Daly said. "We are trying to minimize our mistakes and stay in control. We learned from the Foothill game that we have a lot to still learn."
The Lady Eagles played at home Tuesday defeating Chaparral 52-24.
Barlow scored 16 points and grabbed 14 rebounds while Ybarra scored 10 points and Williams and Sam Hanson each added eight points.
"The team played really well, and bounced back from the Foothill game," Dosch said. "Sam played a very solid game, giving us a boost in the second quarter with back-­to-­back 3-­point shots. Katlyn did a great job all game of running the offense."
The Lady Eagles are 13­-3 overall and 4­-0 in the Sunrise League.