Loss boosts team's resolve to win
October 22, 2014 - 1:28 pm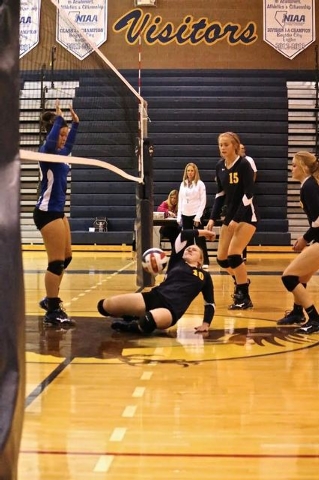 The Boulder City girls volleyball team will try to get back on a winning track at 6 tonight when the Lady Eagles host Sunrise Mountain in a Sunrise League match.
Boulder City suffered its first loss of the season in league play Tuesday when it lost the final three games after leading 2-0 against Virgin Valley in Mesquite.
The Lady Eagles, who had lost only one league game all year, jumped out with a pair of 25-20 wins. But Virgin Valley did not allow the Lady Eagles to close out the match, rallying for three wins 25-18, 25-20 and 16-14.
Boulder City dropped to 20-8 overall and saw its league winning streak end at 10 matches. The team is 10-1 in the league and remains in first place, one match ahead of Virgin Valley with three league matches to play.
The teams split the two league matches, each winning at home. They also were 1-1 in two meetings at invitational tournaments. The Bulldogs are now 15-11 overall and 9-2 in the league.
"Virgin is always a great team and a hard match for us," senior Kinsey Smyth said. "We are trying to work hard and play our best as we approach the playoffs. We will learn from the loss."
Despite losing to Virgin Valley and losing 25-21, 21-25, 25-12, 25-17 to Calvary Chapel at home in a nonleague match Oct. 14, the Lady Eagles have won 14 of their past 17 matches.
"The team has been playing well," coach Cherise Hinman said. "At this stage of the season, we are fine-tuning some things on defense and working on some different offensive options. We can finish strong in our league."
The playoffs will pose a different challenge.
"The Sunset League, which we'll meet in the playoffs, is where all the competitive teams are. That's what we are preparing for now," Hinman said. "We have several players doing well, but I told the team at the beginning of the season that this team will take accolades as a team and take defeat as a team. They are a cohesive group."
The Lady Eagles conclude their regular season with a road game at Chaparral on Monday and the season finale at home against Moapa Valley on Wednesday. All games are at 6 p.m.
Wednesday's game will be a "dig pink" fundraiser with all proceeds collected donated to the family of junior varsity volleyball player Cortney Blumenthal, whose mother is battling lymphoma. Donations can be made at the game.
If Boulder City secures the No. 1 seed from the Sunrise League, it will host a home match when the Southern Region playoffs begin Nov. 4.
On Oct. 15, Alyssa Ybarra had 22 digs and two aces and Jaden Wood had seven kills, eight digs and two aces in a three-game sweep of Tech, 25-16, 25-12, 25-15. Smyth had six kills and three blocks; Maggie Roe added five kills.