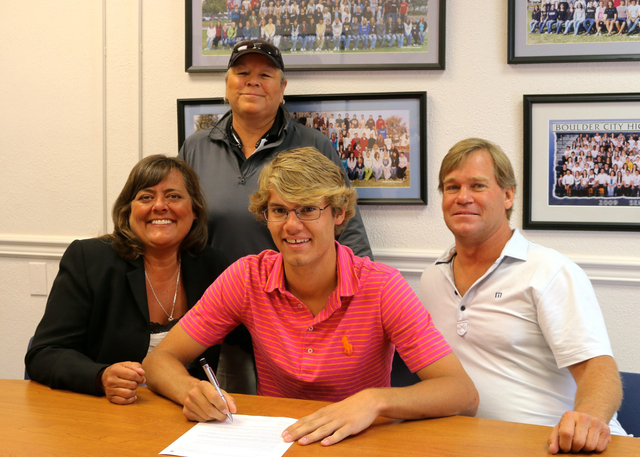 Luke Logan has always excelled at golf. It's been a part of his life since he was 5 years old. As his high school career was coming to a close, Logan had to decide how golf was going to fit into his future. Late in April, he signed a letter of intent to attend North Idaho College in Coeur d'Alene, Idaho, on a 90 percent tuition scholarship.
Logan was a top golfer for Boulder City High School, the only golfer in Southern Nevada to win the Nevada Interscholastic Activities Association's Division I-A Southern Regional Tournament for four years in a row, according to head golf coach Regina Quintero.
"Playing golf at Boulder City has been a pleasure," he said. "I have gotten something that not many people get and that is to be the No. 1 golfer on the team, as well as the region. So it has created a pressure continuously to maintain that spot, which definitely has given me experience others won't ever get."
Quintero said she thinks Logan will do well at North Idaho. The golf program is rebuilding, so she believes he will see a lot of time on the course.
Once Logan settles into college life, Quintero said she expects him to be in the top three or four in the playing order.
Logan said he didn't have many options when it came to considering colleges. He states his junior year was not the greatest year for him because of a change in golf club regulations. He had to switch clubs because the grooves in his became illegal, and he said it messed up his game.
Logan's only other option was to walk on at Dixie State College in St. George, Utah.
Logan's talent comes from his work ethic and his passion for the game, according to Quintero. But, if you ask Logan, his talent comes as a blessing.
"My success is given to God," he said. "He gifted me with a talent as a young child in a sport that most people would never associate with a 5 year old kid: golf. I was also gifted with the ability of a hard work ethic. I want to be great some day and with that I know it will take hard work. I would also say my parents, of course. Without them I wouldn't have the chance to do the things I've done. They have always been there to support (me) and my dad has taught me as much as a mediocre golfer can. My mother, well, she just smiles and tries not to get too into things, as well as she doesn't really have the sport mind needed, regardless."
Logan is the son of Jennifer and Shawn Logan of Boulder City.
As Logan continues his career at North Idaho College, he aspires to one day play on the PGA Tour, just to see what it really takes. His backup plan is to teach at a golf course.
Quintero said she believes that Logan should keep his passion for the game as he progresses to college.
"Once he gets to college, there will be a lot of distractions, being new to the school, getting away from BC and mainly adjusting to the new life. If he can keep his focus on school and golf, he will be better for it. … Remember where he came from and don't forget us here at BC. Always try his best to represent himself, his parents and the school is a positive manner."
For Logan, one thing is clear: Golf is his life.
"For me to be able to golf for the rest of my life would just be incredible."
Contact Rochelle Richards at BCRsports@gmail.com.